File Details

File Size
3.8 MB
License
Shareware, $45.00
Operating System
Windows (All)
Date Added
July 27, 2023
Total Downloads
63,691
Publisher
X-Ways Software Technology AG
Homepage
WinHex
Publisher's Description
WinHex is a universal hexadecimal editor, particularly helpful in the realm of computer forensics, data recovery, low-level data processing, and IT security. An advanced tool for everyday and emergency use: inspect and edit all kinds of files, recover deleted files or lost data from hard drives with corrupt file systems or from digital camera cards. Features include template editing, drive cloning and imaging, encryption. It allows to concatenate, split, unify, analyze, convert, and compare files. Flexible search and replace functions are included, also a data interpreter and a sophisticated undo and backup mechanism. The disk editor supports FAT12, FAT16, FAT32, NTFS, CDFS, UDF, Ext2, Ext3, and Reiser volumes as well as physical disks. The RAM editor can prove particularly useful for debugging purposes.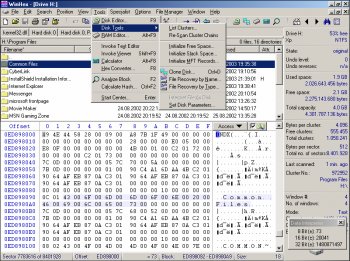 View Full-size
Latest Reviews
BANDIT- reviewed v17.8 on Jul 8, 2014
COFEE ... F/w & portable
A bit OFF topic, But down a similar Road..!!

[QUOTE] The paragraph Below is from a "Source" [QUOTE]

Computer Online Forensic Evidence Extractor (COFEE) is a forensics tool that fits on a USB drive for the police to use in PC forensics.
The software (By Microsoft) is free to police forces around the world and helps access details about crimes such as ................. ~~~~~~~~~~~~~~~~~~~~~~~~~~~~~~~~~~~~~~~~~~~~

-COFEE S/w (is/was) available. That's if SEO hasn't banned active links to it..??
Or if FileHosts have been forced to Remove it..??.. Do some Homework... lol
.WinHex: 3* for being a shareware (similar) Alternative
tomkelly reviewed v17.2 on Aug 22, 2013
love it
juan c reviewed v16.6 on Aug 27, 2012
no se porque tanto drama por el precio de WINHEX si les gusta comprenlo yo hasta este dia estoy usando la version 16.6 SR4
y tan feliz como siempre y eso que uso la version especialista nada mas para recuperar archivos y fotos y megusta como trabaja el programa.
aunque le faltan muchas mas extenciones para ser PERFECTO que cuantas estrtrellas le doy 8 espero que algun dia pueda darle 11
Nightside reviewed v16.0 on Apr 27, 2011
Nyuck
Plumber reviewed v15.8 on Oct 11, 2010
Uh... $45? You need to stop paying attention to way-out-of-date listings. Here are the current prices for WinHex, converted to USD courtesy of Yahoo! Finance:

Personal: $53.34 (37.73 EUR)
Professional: $96.98 (69.90 EUR)
Specialist: $271.78 (195.90 EUR)

I give it a 3 because the usability could use a huge boost.
darkwzrd1 reviewed v15.7 on Jul 29, 2010
Since when is $45.00 dollars a Kings Ransom?
It costs a king's ransom and the interface needs work and the author is a bit arrogant, but nonetheless it's by far the best hex editor going.
gehtnix reviewed v15.2 on Jan 16, 2009
IMHO still the best tool for cloning hard drives, i must admit that is the main reason i use it for, this and some hex editing. i rate it 5 because of it's unbelievable features.
angrypc reviewed v15.1 on Nov 17, 2008
I'm happy with it; it does do what it's supposed to and very well.
Nice try, but I'm not the author of WinHex.

Show me one freeware or open source software title that does ALL that WinHex does, and that does it as well as WinHex does it.

Just one.

I'll be waiting.

Speaking of the author of WinHex, he's doing nicely, and sells more licenses than he can keep up with. This is because he sells to people, companies, and government agencies who have a real need for good, stable software. For these users, OSS just doesn't cut it, with endless sub-version-1 (0.x) releases, stability problems, lack of definitive project timelines and author commitment, and lack of support.

"I prefer free!" just doesn't cut the turd.