File Details

File Size
2.2 MB
License
Freeware
Operating System
Windows 2000/9x/Server 2003/XP
Date Added
April 17, 2003
Total Downloads
233,724
Publisher
Nullsoft
Homepage
Winamp
Other Versions
Publisher's Description
Nullsoft Winamp is a fast, flexible, high-fidelity music player. Winamp supports MP3, CD, Audiosoft, Audio Explosion, MOD, WAV and other audio formats, custom appearances called skins, plus audio visualization and audio effect plug-ins.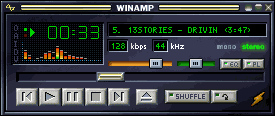 View Full-size
Latest Reviews
Crusader reviewed v2.91 on Aug 20, 2009
The best music player created for the man. XD Easy to use, very soft and with thousands of skin to custom your winamp as you like.

Great program that resist the years very good.
S-e_R reviewed v2.91 on Nov 8, 2004
Winamp is my only music player ever since i found it on the web. I have a lot of music on my computer and since it is very simple to use and very fast loading, it has become my only player.
geekboy2000 reviewed v2.91 on Jun 25, 2003
The 2.x series continues to get better and better. I agree with the previous reviewer. 3.0 is to WinAmp, what "New Coke" is to Coca-Cola. 2.x is the classic, and it's a great app!
franzj reviewed v2.91 on Jun 25, 2003
Winamp2 is easly the best standalone music player. Keep up the good work Nullsoft! Please try to preserve the wonderful features of Winamp2 in your next major revision of Winamp. I was upset to find out, for example, that Winamp3 doesn't handle taskbar/notification the same way.
TheLoneIguana reviewed v2.91 on Jun 4, 2003
NullSoft could start using Hex numbers after 2.999...
version 2.A, 2.B, etc... heheh
Or just skip up to 4.0 and continue, forgetting Winamp3 ever happened...
gammapooka reviewed v2.91 on Jun 3, 2003
Hmmmmm WinAmp plays the last few seconds of a song VERY loud.
Even a clean install of Windows XP wont help.
Very bad bug !!
lazerfisk reviewed v2.91 on May 13, 2003
Excellent! :) But what will happend to us 2.x-lovers after WinAmp v2.99? v2.100 perhaps? :) hehe... I will stick to the 2.x-series since i think that 3.x is far too much that a musicplayer: it takes too much CPU, and has a lot of overkill-l33t-gam3r features... I don't want that kind of flexible skin, alpha-blending, scalable windows, etc. I want a media-player, and only 1 out of 10 of my friends has changed to WinAmp 3, and he's about to go back to WinAmp 2... :) Keep up the work on WinAmp 2. We're worth it ;D
jpk311 reviewed v2.91 on Apr 20, 2003
on a side note; I don't appreciate the link to winamp3 being listed on this forum. Anyone who has stuck with winamp 2.x even after that abomination was released obviously doesn't give two hoots about winamp3.
Dirk van Hoofen reviewed v2.91 on Apr 18, 2003
This was my personal favorite and the best, it was free for students. Thanks for it.
jpalo reviewed v2.91 on Apr 18, 2003
That "Changes in Current Version (2.91)" is not complete. It doesn't have e.g., this one: "put AOD in all installers (opt-out always)". Soon, oh yes, we're gonna have to pay for winamp ;)