File Details

File Size
1.2 MB
License
Freeware
Operating System
Windows Vista/XP
Date Added
September 30, 2010
Total Downloads
35,418
Publisher
Microsoft Corp.
Homepage
Windows Live Mail
Publisher's Description
Windows Live Mail brings together multiple e-mail accounts, calendars, and more into one easy-to-use program. Access and edit your e-mail and calendar events, even when you're offline, and sync your changes later. Use Windows Live Mail to help maximize your e-mail security across multiple e-mail accounts. Mail combines the ease of use of Outlook Express, with the speed of Windows Live.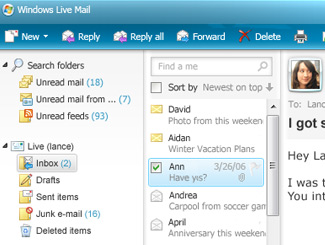 View Full-size
Latest Reviews
jack00810 reviewed v15.4.3502.0922 on Aug 26, 2011
The program is good, but advertisement is annoying. And it forcibly opens an IE window from a link despite chrome being my default browser.
ZenWarrior reviewed v15.4.3502.0922 on Oct 7, 2010
Does not install on XP.
DoHickey reviewed v14.0.8089.0726 on Aug 28, 2009
I couldn't get this to work on XP sp-3 either.
I had to do a system restore to get my old version back.
It kept saying not enough memory and disk is full.
It was running in 3 instances in the windows process window, even after re-starting the computer.
guru_v reviewed v14.0.8089.0726 on Aug 20, 2009
To the person who says it won't install on XP - it does, without problems. I have installed it on a laptop running XP SP3, and a desktop running XP SP2, with all patches, save for the SP3 bundle. No problems in either case.

as for changes, who knows, as Microsoft once again keeps us in the dark. There is nothing on the Live Essentials site or team blog. I actually wonder how Betanews got wind of it, as the product never gives a clue until much after a release that a new release is available.

After the install, there is no list of changes,, and before the install, there is nothing indicating what will be changed, Typical Microsoft. It will take some time to sort out what has actually been changed - but as a long time user, I'd say it probably only affects the users of Windows 7, as I can't see many changes being made for help with the remaining Windows XP problems. Again, typical Microsoft.

5 stars for being fairly good, and free. 0 stars for no word on changes, and no way listed to find out.
Vimes reviewed v14.0.8089.0726 on Aug 20, 2009
Upgraded my previous version fine. Runs well and it is a great client t use. Comparable to Windows other free mail clients and I do like the way it handles and inserts photos, very simple to use. I prefer it over Thunderbird and Eudora.
Creating rules is still a little cumbersome and sometimes the font formatting / stle and colour fails to apply when replying to a person and writing within their text, if that makes sense.!
I do miss the icons that were available in the earlier previews. I do miss being able to display your contacts in a list in the main pane like you could with their previous clients.
Good newsgroup support.
plasticpig72 reviewed v14.0.8089.0726 on Aug 20, 2009
Not a good start installs but will not run either on win9 or XP
frankwick reviewed v14.0.8050.1202 on Jan 15, 2009
This program shows promise but still has some unfinished items. The program works great and is reliable, but there are some UI elements which really bug me. For example, they removed ALL icons form the tool bar and the folder tree. As a result, it looks unfinished.

Photo mail is a cool feature, but it needs more effects and options to feel complete. The photo borders are somewhat old looking. Outlook 2007 has great photo effects. you would think the LIVE team could borrow these.

The junk mail controls are very good. On par with Outlook 2007.

It's worth checking out. Much better than Outlook Express, Windows Mail (the default Vista version), and Thunderbird 2.

When Win7 ships, there will be no mail client built in. There will be a link for you to download Windows Live Mail. So, we may see an update by summer.
ahmedelsadek reviewed v14.0.8050.1202 on Jan 14, 2009
is there any problem to install over older version
jotte_ct reviewed v14.0.8050.1202 on Jan 14, 2009
Is this portable?
dreamz reviewed v14.0.8050.1202 on Jan 14, 2009
Good looking and feature rich email application.Easy to use. Gives you a great overview to an unlimited numbers of mail accounts (POP3, IMAP, HTTP, Gmail, etc).

Outstanding seach oppertunities. Calendar application integrated. Works perfect with a Windows Live account.

Addware? No way, Gmail is addware.
/dreamz