File Details

File Size
0.6 MB
License
Freeware
Operating System
Windows 2000/Server 2003/XP
Date Added
February 6, 2007
Total Downloads
15,251
Publisher
Vitali Graf
Homepage
Windows Unattended CD Creator
Publisher's Description
Windows Unattended CD Creator allows creation of a bootable ISO image, Integration of service luggage, Creation of user accounts, and Integration of Drivers, Hotfixes, Patches, and Software.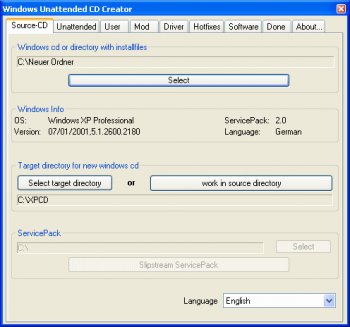 View Full-size
Latest Reviews
chicory reviewed v1.0.2 Beta 10 on Mar 2, 2010
Cut the guys some slack. Anyway a boot cd/dvd is a cd/dvd that you insert into your cd/dvd drive that boots from a that cd/dvd. A dvd/cd is usually an install cd/dvd.
lang999 reviewed v1.0.2 Beta 10 on May 24, 2009
Not that many fucntion like adding serialnr and crap u can do without an app.

Try v-lite = vista n-lite=xp
skinhead reviewed v1.0.2 Beta 10 on Aug 11, 2008
Very good software it will do unatteded windows and applications perfectly. Just know the right switch for each application you want to install and the rest will do by this software
linussunil reviewed v1.0.2 Beta 10 on Feb 29, 2008
Hi Friend i got a problem while creating a CD from
" Windows Unattended CD Creator"
All the additional softwares which i need added in Hotfixes but the thing is that it is not installing automatically I need to press

" NEXT & FINISH"

i feel really bad about this, i created Unattended CD but still Attending :(, how can i automate this... Please i need a guidance how to do this..

And one more request i need to install
MS Office
VM Ware
FLASH MX
Adobe reader
VLC Player
Sensiva
objectdocker
UltraISO
Themes

And many more too, Need a Document to install the softwares so that i cam make my OWN DVD CD which is a real Unattended CD.
Thank U

U can also mail me to sudhir.sunil@yahoo.com
costo_38 reviewed v1.0.2 Beta 10 on May 9, 2007
Its great tool,but ! we need an english help ducument please !!!!!!!
darkspyre0 reviewed v1.0.2 Beta 10 on Feb 12, 2007
note he said "a boatable CD"

Unfortunatly I don't know what "a boatable CD" is either.
aszure reviewed v1.0.2 Beta 10 on Feb 7, 2007
What is a bootable CD? If you dont know what a bootable CD is, and dont have the sense to type it into google, then you should leave this site and stop trying to be a techie.
ckliebert reviewed v1.0.2 Beta 10 on Feb 7, 2007
I am new to this. Can some one tell me what a boatable CD means. I think all this is above me, but I keep trying.

Madison
jacjan reviewed v1.0.1 on Jun 2, 2006
Great program, would get a 5 if it wasnt such a memoryhog when you add some addons.

There wasnt many addons needed to use over 1.5gb of ram. (100Mb of ryanvm addons, and 1.5gb of memory used....)
Richardky reviewed v1.0 RC2 on May 23, 2006
im all 4 freeware like this ..but i cant get it to do jack ..