File Details

File Size
16.1 MB
License
Freeware
Operating System
Windows 7/8/10/Vista/XP
Date Added
September 8, 2022
Total Downloads
4,449
Publisher
WiseCleaner.com
Homepage
Wise Care 365
Publisher's Description
Wise Care 365 provides the best solution to improve your PC's performance. It not only promises a dead easy use but also brings the advantage of full-featured, practical and economical. With its help, your computer will never run slow again. It is consisted of five parts: PC Checkup, System Cleaner, System Tune-up, Privacy Protector and System Monitoring. PC Checkup can check the whole running condition of your PC, mark its health status with 10 as the full score and then show you quick-fix solutions. System Cleaner will help you scan and clean invalid registry entries, useless files, trash of browsers and windows components, etc. It also slim down system and manage big files. With System Tuneup, you can optimize the system and network, defragment disk and registry; manage startup & services and context menu. Privacy Protector will erase your browsing history such as the viewed pictures, watched movies/videos, accessed files and visited pages, prevent files or data from being recovered by recovery software, and generate all kinds of passwords for you. System monitoring is a new added feature to overview system processes and hardware information like temperature and memory usage, etc. Wise Care 365 also includes the function of restoring and scheduler. What's more, you will find the speed up ball which can display the memory usage and CPU temperature. In addition, Avatars and free technical support are provided for registered users. Skins and help files are provided for all Wise users.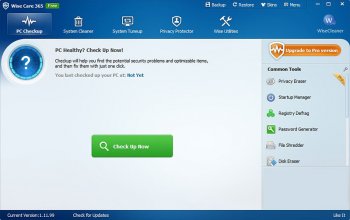 View Full-size
Latest Reviews
some guy reviewed v5.3.5.532 on Jul 9, 2019
would not really recommend
Vivek Kowshik reviewed v5.3.3.530 on Jun 17, 2019
Not recommended
Music4Ever reviewed v5.1.5 on Sep 13, 2018
Great cleaner, probably the best there is.
Music4Ever reviewed v4.8.1 on Feb 8, 2018
Got a full licence & never had an issue with it. Must have program - Kasperky & HitManPro.Alert had no problems with the download. Used for several years now.
CyberDoc999 reviewed v3.81 on Aug 18, 2015
ESET flags this as a PUP ..... avoid at all costs
CyberDoc999 reviewed v3.74 on Jul 14, 2015
I did not notice any benefits.. the portable version adds junk to the right click menu.... it messed up my registry .... I had to do a system restore
oompoop reviewed v2.72 on Apr 4, 2014
... one of the very few programs that also clean up the "basement" c: \ Documents and Settings \ ComputerName \ Local Settings \ Temp
crosseyedlemon reviewed v2.72 on Aug 17, 2013
I can only agree with everyone else that this is an excellent product.
reddy.shyam reviewed v2.72 on Aug 8, 2013
Best of the best!
Music4Ever reviewed v2.01.146 on Sep 21, 2012
I've used Wise programs for over three years & have never had any ad or spyware issues, the registry scanner is about the safest I've seen, if you just want cleaning the Wise Disc Cleaner may be all that you need. Good free software.

Wise Disc Cleaner link:
http://www.wisecleaner.com/download.html