File Details

File Size
0.4 MB
License
Freeware
Operating System
Windows (All)
Date Added
October 20, 2020
Total Downloads
19,319
Publisher
Ian Luck
Homepage
XMPlay
Publisher's Description
XMPlay is a Windows music player, supporting the OGG, MP3, MP2, MP1, MO3, IT, XM, S3M, MTM, MOD, and UMX audio formats, and PLS and M3U playlists. Many other formats are also supported via Winamp plugins.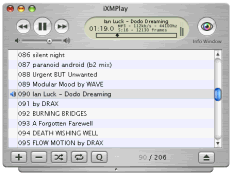 View Full-size
Latest Reviews
roj reviewed v3.8.0.5 on Jan 14, 2014
Always loved this and unlike Foobar2000, the WASAPI implementation on this player actually continues to work properly with USB speakers.

FIVE stars.
dhry reviewed v3.8 on Dec 27, 2013
Excellent little multiformat player with low resource usage and a long development history. However, I've been wishing for years that they would provide an option to just use standard Windows UI as an interface in addition to the custom skin system. The auto-updater could do with a tweak as well - instead of sending you back to the website when it detects an update (where you then have to try and figure out which zip file to download and where to extract it to), it could do with taking a leaf out of Foobar2000's or Miranda NG's automated plugin and main exe updaters. Still, this guy gets 5 stars.
smaragdus reviewed v3.8 on Dec 27, 2013
XMPlay now renders the Cue Sheets the way I like- as separate tracks! With plug-ins XMPlay can play almost all audio formats, is extremely small, light and portable! A great player!
smaragdus reviewed v3.6 on Jun 3, 2013
The current version of XMPlay is 3.7.0.0.

Apart from the default skin which I dislike my problem with XMPlay is that it did not list the tracks within a cue sheets as separate tracks but treats them as sub-tracks so one can see neither the name nor the duration.
sweathog reviewed v3.6 on Mar 21, 2011
Lite on resources. Plays everything. Outstanding sound quality. BTW, I don't get the UI complaints voiced by others, below. I use the MMD3 skin, which works virtually the same as the MMD3 skin for Winamp and several other media players.
betabettabest reviewed v3.6 on Dec 28, 2010
-Great sound quality. The better your equipment, the more you'll appreciate that.
-Best ASIO support of any player, significantly better than Foodbar's. Best WASAPI support, too.
-Plays anything you throw at it -- files, playlists, urls.
-Their Winamp plugin converter wasn't working with the latest DFX, so I emailed them--and they wrote an update in 1 day. Show me that kind of service anywhere else.
-Excellent file info.
-Interface takes getting used to; try different skins until you find one you like.
Plumber reviewed v3.6 on Dec 23, 2010
Ditto to what tranglos said. UI suck is endemic in this category.
Input Overload reviewed v3.5.1 on Sep 25, 2010
Brilliant little program, AIMP was my music player but I saw XMPlay mentioned on another review I decided to investigate. I'm glad I did. Great program, lots of skins if you are into skinning. An easy 5 stars.
tranglos reviewed v3.5.1 on Sep 17, 2010
Another entrant in the competition to make a media player totally unusable to most people over 20!

This one wins hands down in the category of "Make all the important buttons tiny and devoid of contrast so that they can't be told apart or clicked confidently". Also in the category of "Put important functions where the user least expects to find them" - like the [x] close buttons in the upper right corner of one window, and the upper left corner of another.

And hey, developers! With Aero glass, Microsoft finally managed to design a pleasing UI, and the standard window interface has been pretty functional since Win95, so why not just use that instead of creating non-standard windows / titlebars that are all of (a) uglier (b) less functional (c) harder to use?

I should add that the screenshot above is in no way similar to what you see when you download and run XMPlay. Although that particular skin does indicate that the designer's ambition is to imitate early versions of QuickTime/iTunes - one of the suckiest UIs ever seen on Windows. And oh, the reason I run Windows is to have my apps imitate the Mac UI. Yeah... right.

Next!
garretthylltun reviewed v3.5.1 on May 21, 2010
It's small. It's easy to use. It lacks all the bloat and bull of other mainstream players. It's free.