File Details

File Size
15.2 MB
License
Open Source
Operating System
Windows Server 2003/XP
Date Added
August 31, 2009
Total Downloads
220,121
Publisher
XPero
Homepage
XPize
Other Versions
Publisher's Description
XPize is a GUI enhancer for Windows XP and above. It replaces most of the non-XP icons, avis and bmps that Microsoft has always overlooked. The installer simply automates the process of replacing resources in critical system files, making your XP's look better. It also includes some extras and a reloader, which you can use after visiting Windows Update.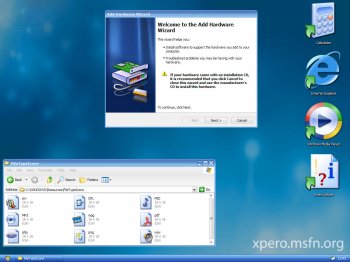 View Full-size
Latest Reviews
rafaru reviewed v5 Release 6 on Feb 2, 2010
Hi , I installed yesterday Xpize 5 on my PC and it never started again , it keeps rebooting again and again without stop , could anybodey please help ??? is it possible to uninstall from BIOS ?? is the only place I can come to

Thanks in advance
thartist reviewed v5 Release 6 on Sep 1, 2009
This new release is Absolutely perfect, makes your XP breath a new generation air.
Doesn't cause any problems at all and you can customize absolutely every bit of the revamp.

Galifray, learn to use it loser.
Vimes reviewed v5 Beta 5 on Aug 18, 2009
For those who continue to use XP, and it seems many people do, this adds a nice set of eye-candy icons and the like to breathe some life in the aging aesthetics of the OS. I have tried this version on two PC's and have had, as yet, no problems.
Galifray reviewed v5 Beta 5 on Aug 17, 2009
I tried the previous beta release (which was the final????) and I uninstalled it in about half an hour. Oh the icons are pretty enough, but it rewrote customized settings to its need. For example, I already had my own pdf icon, but XPize set it to a new one.
Also, I didn't see an option to NOT install and use the task switcher that comes with XPIZE.
It needs to leave MY settings alone or only be installed during a new install.
Second Shadow reviewed v5 Beta 4 on Jul 26, 2009
Great program! Makes your Windows XP look much better (Note: if you're using Vista, try Vize from the same developers: http://fileforum.betanew...etail/Vize/1189698355/1)
Check out the screenshots, they speak for themselves: http://www.xpize.net/screenshots.php
Also, this is no longer a Beta, this is (finally!) Version 5 FINAL of XPize. Almost a year after the original developer quit the project and handed it over to a group of people (a big thank you to all of them!), XPize Version 5 is released :)
Aegis69 reviewed v5 Beta 3 on Jun 29, 2009
XPize is good, works as advertised and is a huge improvement over the default icons in XP.

However I prefer Tango Patcher

http://vertigosity.devia...cher-2600-8-06-27940418
gawd21 reviewed v4.7 Beta 2 on May 23, 2009
Crap!
zhu8 reviewed v4.7 Beta 2 on May 8, 2008
It's Very Cool and simple:)
I Love IT
hujo reviewed v4.7 Beta 2 on Jan 20, 2008
@Stingray57: I had the same problem. You need to install MS NET Framework 2.0 first.
Nikkie reviewed v4.7 Beta 2 on Sep 14, 2007
This has way too many bugs.It doesn't install everything stated in the description..
The icon in control panel to adjust settings gives you errors and won't open.I couldve just went with uxtheme and got taskswitch on my own.Maybe even threw on the tango patcher etc.

Anyhow, when i logged off i got a value error.I then restarted and uninstalled.Now i can't reboot my pc..

This should be named ''alpha''

Be Warned..