File Details

File Size
0.6 MB
License
Freeware
Operating System
Windows 2000/9x/Server 2003/XP
Date Added
December 10, 2005
Total Downloads
8,573
Publisher
Javier Gutiérrez Chamorro
Homepage
XPlorer
Publisher's Description
XPlorer is a substitute for the Windows Explorer, adding multi-tabbed features. Thus, it is possible to have numerous locations opened at the same time.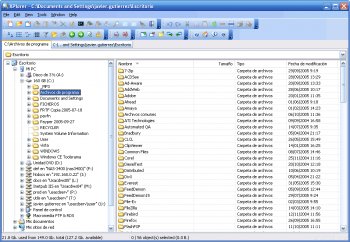 View Full-size
Latest Reviews
espyder reviewed v0.50.113 on Sep 27, 2008
No Undo = Useless
Lisa Hayes reviewed v0.50.113 on Dec 20, 2005
too unstable for everyday use..

most of the basic commands that is needed gets a system error.
summoner reviewed v0.50.111 Beta on Nov 30, 2005
Very nice!

I like:
- the tabs
- intuitive to use for a Firefox user
- it doesn't store preferences in the registry but in a file in it's own directory (ideal for my USB memory stick)
- file splitter/joiner [just need to actually implement it now! ;) ]

don't like:
- tabs don't close in displayed order, when pressing CTRL+F4
- no right-click menu options on the tabs
- whole app freezes when polling network information in one of the tabs
- blue/classic themes are wrongly labelled
- unable to open Windows shortcuts
- keep getting some "not a valid integer value" error when clicking on files larger than 1MB.

Shows great promise, but needs loads of work done on before I would consider it useable - hence a neutral rating.
guti reviewed v0.40.109 Alpha on Nov 10, 2005
Hi bobad,

I have created a file called FSViewer2.27 b3.exe, and no problems found.

Are you using the latest 0.40.109 alpha version?

Regards.
bobad reviewed v0.40.109 Alpha on Nov 10, 2005
Buggy right now, but hey, it's alpha! Gets an integer error on a file named "FSViewer2.27 b3.exe"

Nice though. I like the single file program (portable). I REALLY like the future implementation of thumbnails. :)
guti reviewed v0.40.106 Alpha on Oct 27, 2005
Dual pane is planned arround 0.70 beta release.
tp reviewed v0.40.106 Alpha on Oct 27, 2005
any plans to go dual pane?
tp reviewed v0.40.96 on Oct 7, 2005
i've never bothered with a file manager before but have now tried this one, plus those mentioned below.. i like them all.. this one is completely freeware though, so it gets my vote at the moment, since i use stuff like this more at work than at home..
hkm reviewed v0.40.96 on Oct 7, 2005
Overall, not bad. Still a bit buggy, but that goes with the territory at BetaNews, so I accept that. Xplorer: confusing name, though. At first I thought it was an update for Xplorer2 Lite, the freeware excellent file manager. Now, Xplorer2 Lite beats the pants of this one.

If you want the great, easy-to-use Xplorer2, then go here:
http://zabkat.com/x2lite.htm
NOTE: this page is for the freeware vers; the downloadable shareware version has lots more features.

Finally, my personal fave file manager is Tracker3, just recently updated. Get it here:
http://www.trackerv3.com/

Note: I am hesitant in using one review/critique to post links for other alternatives, but I am doing so in the hopes of assisting others looking for decent alternatives [freeware, in the case] for the unbelievably clunky Micro$oft Explorer.
guti reviewed v0.40.87 on Oct 2, 2005
AFAIK Firefox is not a Windows Explorer substitute, but an Internet Explorer replacement instead. They are different products.