File Details

File Size
6.4 MB
License
Shareware
Operating System
Windows 7/2000/Vista/XP
Date Added
July 8, 2015
Total Downloads
10,564
Publisher
Paul Alan Freshney
Homepage
Xinorbis
Publisher's Description
Xinorbis is an easy to use disk analysis tool that can provide you with information as to how your disk space is being used up. It gives quick and easy to interprete results. It generates a large range of graphs and tables, allowing you to see where and how your disk space is used. Ideal for anyone with a vested interest in hard disk management.
The trial version of Xinorbis will never expire but certain features are not available: File History (some advanced features not available in Trial mode); Advanced options.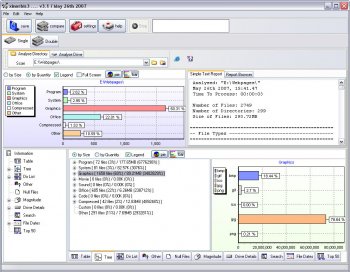 View Full-size
Latest Reviews
DrTeeth reviewed v6.0.29 on Feb 28, 2014
Still very good and now freeware
DrTeeth reviewed v6.0.14b on Sep 15, 2011
This program is very useful and the programmer is very responsive and helpful. The licence would be cheap at three times the price
anomoly reviewed v6.0.9b on May 11, 2011
It always had limitations in the freeware version. I don't need it anyways.
Bala7 reviewed v6.0.8 on Apr 25, 2011
No longer free but trialware.
anomoly reviewed v4.2.6a on Feb 5, 2010
The portable version of this works nicely for detailed analysis with reports in multiple formats. Disable history and default to table view and it will play nice. Compresses down to 5.14 MB after use (sans history).
The other two progs mentioned one is $30 and the other has nothing to do with simple disc analysis.
Try file menu tools.
http://fileforum.betanew...Menu-Tools/1224016168/1
It's free and will display pie charts directly from context menu. Great little tool that
Banquo reviewed v4.2.6a on Feb 4, 2010
Speccy? Apparently you don't understand what this program is for. As for not being worth it did you fail to notice this is free? Try reading before reviewing something.

Works fine, though I do have another folder analysis program I like a bit better.
Jtaylor83 reviewed v4.2.6a on Feb 4, 2010
Not worth it. Speccy is a better tool than this.
anomoly reviewed v4.1 Beta 11 on Aug 18, 2009
WoW. Works perfectly in portable mode. Top Notch
Stoerpser reviewed v3.7.1 on Jun 28, 2008
I think, that the current version 3.7.1 (either zip and .exe) runs in debug-mode. It's possible that there is an compile-error?
The last error-free version ist 3.7, I mean.
;-(
shtraue reviewed v3.4.2 on Dec 13, 2007
Current version is buggy indeed, nevertheless I'm giving it score 3 for the effort to make a useful free program.