File Details

File Size
4.3 MB
License
Freeware
Operating System
Windows 7/2000/Server 2003/Server 2008/Vista/XP
Date Added
January 11, 2014
Total Downloads
9,939
Publisher
r2 Studios
Homepage
Xion Audio Player
Publisher's Description
Xion Audio Player features full-layered skins with complete animation support, powerful playlist support, gapless playback, 10 band equalizer with presets, auto play and position saver, customizable global hotkeys, single click play/pause, and much much more.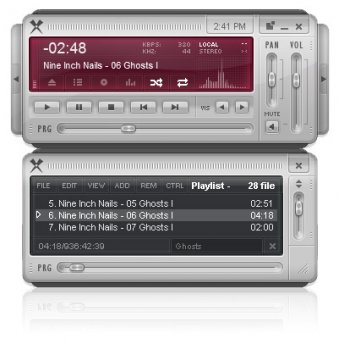 View Full-size
Latest Reviews
rand88 reviewed v1.5.154 on May 24, 2013
This is an excellent, lean and clean player that echoes long-lost simplicity of Winamp from 10 years ago. It has some fantastic skins, but some of them are also pretty clunky, so it takes some trial and error to find the best ones. Also, my primary beef is that many of the skins don't effect all modules, in particular the playlist. Many of the skins are very creative and look really hot in compact mode. The equalizer could use more bands, but it can be refreshing compared to the 18 bands in AIMP, which I sometimes find to be a bit much for every-day use. The sound is crisp, and the interface is simple and intuitive with the right skin. I highly recommend this player. Try it, it might become your favorite.
maxmassilon reviewed v1.0.125 on Sep 18, 2010
Um dos melhores. O Melhor sem dúvida é o JETAUDIO. O que mais impressionou neste mediaplayer foi a sonoridade em auto fidelidade
Inniosoft reviewed v1.0.125 on Nov 20, 2009
I've been using Xion for a long time now. I originally downloaded it just so I could make skins for it, but it became a handy little player to use. It's streams radio perfectly.

Now with 125, I can do so much more. This is a wonderful media player. Will stick with it. :)
dhry reviewed v1.0.119 Beta on Aug 3, 2009
One star, based purely on two things - one, it's shaped like a female sanitary napkin and two, I can't give zero stars. Avoid.
cliffcawley reviewed v1.0.116 Beta on May 13, 2009
GhoS you said "I can't load my media library easily and shuffle the list."

In what format is your media library? Is it just some files on disk? If so you can just drag and drop the folder straight onto Xion and it will load it into the playlist, which you can then shuffle. If not, how did you create the media library, what format is it in?

P.S. I can't figure out how to get in contact with people, only by posting a rating in the hope that they'll read it again, anyone have any tips?
GhoS reviewed v1.0.115 Beta on May 5, 2009
I've tried this player a couple of times due to the high praise it gets and each time I'm disappointed. It has no features (at least nothing that works easy for me). I can't load my media library easily and shuffle the list. Maybe I'm not that bright, but I really couldn't figure this player out very well.
I don't understand the hype when there are a lot of other choices that do more, are easy to follow and are still free - Winamp for one.
meteecee reviewed v1.0.114 Beta on Apr 27, 2009
downloaded it, tried it on a few tunes and then uninstalled it.
it plays ok but after the crash i'm not carrying a collection of media players anymoew.
i use media monkey, with my DSP's and GForce for my library and settled on
AIMP2 on my "tune tester"
gave it a three for effort
roj reviewed v1.0.114 Beta on Apr 27, 2009
Based on the "wunnerful accolades", I downloaded this and tried it and for the life of me, I can't see what all the fuss is about.

LOTS of hype.

Not much substance.

It's an OK player, competent enough in its own limited way.

And that's the problem - it's limited.

No ASIO support despite claims that it's there. No WASAPI support. A *very* bare-bones set of configuration options.

NOTHING distinguishes this player from the various others out there.

You like this player? Fine. It's likeable. is it the second coming? Get a life; XMPlay, Foobar and Winamps (even VUPlayer) have it beat stone cold hands down.

THREE stars for a competent enough, albeit decidedly lacklustre effort.
cyberia reviewed v1.0.112 Beta on Mar 30, 2009
If my G-force visualization plug-in ran on Xiion, I'd give it a five. As it is, it sounds great, and that's at least 80 percent of what a player should do!
poundsmack reviewed v1.0.102 Beta on Oct 31, 2008
got ot be one of my favorite media players. Still one of teh new kids on the block, but loads of potential. looking forward to teh next stable