File Details

File Size
17.6 MB
License
Open Source
Operating System
Windows 2000/9x/Server 2003/XP
Date Added
May 29, 2012
Total Downloads
26,350
Publisher
Alvaro J. Iradier Muro
Homepage
aMSN
Other Versions
Publisher's Description
aMSN (Alvaro's Messenger) is a MSN messenger clone. It features multilanguage support, file transfers, new graphical interface, emoticons, multiple profiles support, dock icon, sound events, email notification, and URL processing.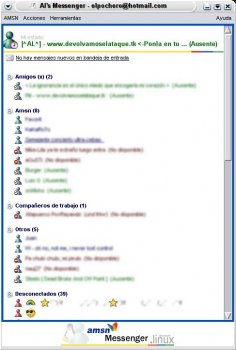 View Full-size
Latest Reviews
radiomaffia reviewed v0.97.2 on Mar 18, 2010
After trying Miranda & Trillian .. aMSN is a very good clone. Where it goes wrong is webcamchat conversations with Wiindows Live Messenger users. I hope this is fixed in 0.98.3. It can be a portforwarding issue but I am not shure...
Edit: Because Microsoft changed their protocols A/V support stopped unfortunately
Lots of skins available for every mood and dark ones for your sleepy eyes and who discovers aMSN is newer looking back to Live Messenger again... 5 stars and who sayed that this clone is unnessary I can say : Live Messenger isn't nessary!! aMSN rocks!!
reets reviewed v0.97.2 on Dec 2, 2009
There is a much newer version on the homepage.
[deXter] reviewed v0.97.2 on Dec 18, 2008
@LakotaElf:

The thing is, those who can buy RAM would have aready bought it if they needed instead of complaining about bloated programs. The fact is though, there are plenty of people who can't:
a) Afford it, or use the money for higher priorities (what with the recession and all)
b) Are not able to find a compatible RAM for their setup (For instance, RD RAM)
c) Have no more room on their mobo for more RAM, or their mobo can't support higher density modules

It's because of these scenarios that there exists plenty of light alternatives, or that companies are making lighter products (eg Norton 2009).

Anyways, the RAM for aMSN doesn't go wasted as it makes up for the features. Things like webcam support work perfectly while other alternative programs don't even include it. Most of the useful features of MSN have have been implemented, making aMSN a really good, viable alternative for MSN Messenger users.

But for those who have multiple accounts at Yahoo, GTalk, AIM etc, I would recommend Pidgin or Miranda.
LakotaElf reviewed v0.97.2 on Dec 17, 2008
This seems pretty good to me, I like it. As for it using more RAM, yes it does but I have 3 gig of RAM in a XP machine so it is ok with me. Using a little more ram is not so bad, sometimes it is necessary, all software works differently and RAM has come way down in price so buy some more to get programs you really want.
Landsnes reviewed v0.97 on Jun 15, 2008
Great!

Works perfectly for me. It has all the features I want and it's all so clean!
radiomaffia reviewed v0.97 on Mar 26, 2008
Hadding problems with WMInstaller that wouldn't install at all (maybe missing somethings in my pc with nLite burned xpcdrom...).
Better then Live Messenger itself, with skinsupport, take a look at their website.
Does take some more memory, but totally worth it!
Installed this because Trillian 3.1.XX crashed everytime when starting up. Glad I found this and loving it allready! Big 5
asaenz reviewed v0.97 on Jan 20, 2008
Used it a couple of times ... seems to work fine and (yea)without advertising but while running uses more memory than msn but when reduced uses less briefly and then progressively increases with the passage of time. Minus 1 for using more memory although it shouldn't since it shouldn't have coding for advertising that msn obviously has. Approx 20,000 K for aMSN and 10,000 K for MSN on my system. I have 1.5 GB on my system but I try to keep as much memory available as possible because the running programs seem to function better (faster and more efficiently). Froze when I tried to change "display picture".
Chocobito reviewed v0.95 on Nov 30, 2007
(This review is based on aMSN v0.97 RC1, available from aMSN's homepage)

Best MSN clone, and better in some thing, I don't have find any bug or error in this last version.
Landsnes reviewed v0.95 on Sep 3, 2007
(This review is based on aMSN v0.97 RC1, available from aMSN's homepage)

Good!

This is a very nice open source alternative to Live Messenger! It's got all the features I need and has a nice user interface. I like aMSN's special emoticons. They are really good compared to the standard Live Messenger ones. Please note that this program is currently a release candidate and has several bugs in it. I'm looking forward to the final version!
roj reviewed v0.95 on Jan 29, 2007
This app is up to 0.96 and it took a year to get it there. It's much improved over the mess that was 0.95 (the connection manager was rewritten - thankfully) but it still has annoying quirks such as freeze-ups and an irksome TK Error that pops up with monotonous regularity. I understand that this is fixed for the next release - that better not take another year.

On the plus side, it's far more configurable and finished than the mess that is GAIM and clobbers Trillian and Miranda for ease of configuration.

If the author gets that TK nonsense as well as the long langourous pauses fixed and out the door, it'll be decent.

THREE stars - four when the abovementioned stuff gets sorted out and in my hands.