File Details

File Size
8.8 MB
License
Shareware
Operating System
Windows 2000/9x/Server 2003/XP
Date Added
March 17, 2004
Total Downloads
2,372
Publisher
Speciality Applications
Homepage
mssqlXpress
Publisher's Description
mssqlXpress delivers to the developer a tool that combines the best features of Enterprise Manager and Query Analyzer with even more features. Ability to retain history of all changes to stored procs, triggers, and databases. MDI interface to enable the easy copying and pasting of code between objects. Script generation with them been stored to a database for easy retrival.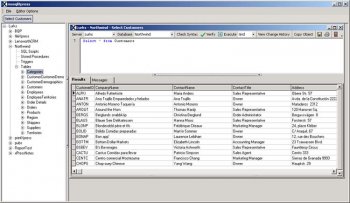 View Full-size
Latest Reviews
mrgrieves reviewed v1.2.9.5 on Mar 17, 2004
(For 1.3.0.6) - this application just keeps improving. The XML support is now first class and they have added quite a few other new features that are really useful.

I think my only complaint now is that occasionally the interface can be a little clumsy - editing tables (both structure and data) is not always as easy as it should be.

But I would be surprised if these things weren't polished up more as time goes on as the developers are very quick to respond and keen to deliver a quality product. (Which they have..)
mrgrieves reviewed v1.2.7 on Sep 9, 2003
Absolutely brilliant. Replaces both Microsoft SQL Enterprise Manager and Query Analyzer and adds some hugely useful features of its own - autocomplete, version history, sourcesafe integration etc.

My only complain is that FOR XML AUTO doesn't work properly (although the app can generate its own XML).

But the developers are extremely friendly and response quickly to bugs and are very open to feature requests so I'm sure they will fix this one.

I'm looking forward to seeing what they come up with next.
mbgrove reviewed v1.05 on Apr 30, 2003
Since Kortirion appears to have covered the program itself rather well, I'll branch out. :-)
Like Kortirion, I have been using mssqlXpress since it first came out in beta. Like all programs in beta, it had some problems, but it definitely had potential. And the team at SpecApps have done an /awesome/ job of attaining that potential. You won't meet a more responsive development company. In looking back at how mssqlXpress has evolved, it is easy to see how much they listen to their customers. With SpecApps, you won't look back.
kortirion reviewed v1.05 on Apr 29, 2003
I wrote the first nasty review of this program (see bottom) and my, how things have changed. I have no idea why I was so pissed, but I actually have ended up using it daily ever since the release following that review. Great program, has removed almost all need for both QA and EM in our shop and everyone is required to use it. Updates are regular and actually add quite a few new features. It is still in active development, one of the newest features being an execution plan simliar to QA's.

It's got table structure editing, a data editor, query builder, code complete (visual studio style), reports, templates, an awesome 'verify' feature which is better than syntax check, and tons of other stuff I can't even remember right now. Just keeps getting better.

Keep QA around in case you need to run the indexing wizard or use a few of it's other features that haven't made it over yet.

It does require that you run the 'server' install to create a database, so you do need to have a sql server you can add it's database too. Keeps trak of the servers you connect to, vss settings, etc. there.
Could be a good substitute for Query Analyzer. It has a lot of extra features, like Source Code sontrol through VSS and code complete assistant, and what is also important - it is constantly developed and improved - even upon individual wish (if your request is really reasonable). We currently have switched to this product and currently Query Analyzer is needed only for Debug and Execution Plan.
DelphiRacer reviewed v0.996a on Feb 17, 2003
I have nothing but good news to report about this program, they have an A class web site with a user forum, only ever had one or two problems accessing there site. The guys have always replied promptly to my request and there listen to your suggestions when it comes to new features or bugs you've found.
InJustice reviewed v0.996a on Feb 17, 2003
downloaded fine for me. I got my demo code through the program..and their website loads with no problems. no 404 here.

have you emailed them asking what the deal is? i've emailed them a few times, they usually reply pretty promptly.
Elfric reviewed v0.996a on Feb 17, 2003
There's already an excellent program called iPhoto. If you want the real thing, and not a half-baked rip-off, try visiting http://www.apple.com/iphoto/ -- of course, if you're running Windows, you'll need to upgrade your computer in order to run it :-?
SpecApps reviewed v0.996 on Feb 5, 2003
Due to problems with our ISP We have moved to a different service and a proper point to point connection and a static IP address. This will make our website more reliable.

Our files are now hosted in the USA on a T1 and T3 connection. This takes pressure off our site and improves download speed for all users.

Thank you VERY much for your patience! —The XpressApps Team
DelphiRacer reviewed v0.96 Beta on Nov 14, 2002
The program continues to improve. The interface is now far superior to QA although still a few issues with error messages. I would recommend this product to any serious SQL Developer out there.