File Details

File Size
4.3 MB
License
Freeware
Operating System
Windows (All)
Date Added
August 10, 2012
Total Downloads
5,324
Publisher
Maxence Bernard
Homepage
muCommander
Other Versions
Publisher's Description
muCommander is a cross-platform file manager that features support for FTP, SFTP, SMB, NFS, HTTP, Bonjour/Zeroconf, email attachments, Zip/GZip/Tar/Bzip2/ISO/NRG/AR/Deb/LST archives, universal bookmarks, credentials management, themes, multiple windows, full keyboard management, and many configuration options. It is available in 20 languages and is licensed under the GNU GPL.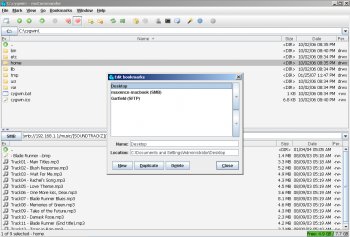 View Full-size
Latest Reviews
spiked reviewed v0.8.2 on Apr 19, 2008
Due to being GPL, muCommander does not (and can never) support RAR files because it is not possible to implement RAR v3 (including all compression types) with GPL code. However, there is no excuse for not supporting 7z because GPL-compatible Java implementations have been available for over 3 years.

Really, muCommander feels like a programming class project getting dragged out, except that the teacher isn't guiding it anymore. In fact, there is no roadmap. That's why muCommander is over 6 years old but the developers are still not willing to call it version 1.0 yet. The feature list seems long but it's full of trivial little things which aren't well coordinated. Much effort gets spent on platform compatibility issues. After 6 years, this file manager finally supports deleting files to the Windows Recycle Bin. You see why it's still not version 1.0?

If you really need cross-platform Java, you might be able to tolerate the immaturity of muCommander. If you're really just looking for a free 2-paned file manager for Windows, you may be happier with FreeCommander.
DudeBoyz reviewed v0.8.2 on Apr 18, 2008
@SPIKED - why can't you just use the right click menu to access your RAR archives when you have WinRAR installed? It works great from Windows Explorer, PowerDesk, Free Commander, muCommander, etc.

------- ORIGINAL COMMENT: -------

Although I've bailed on using Macs and OS X and am back again using Windows exclusively, the fact that it's multi-platform means it's still useful to me, thankfully.

Since the updates of PowerDesk Pro in versions 6 and now 7 still contain a few show-stopper bugs, such as not keeping the proper sorted order during drag and drop operations and I'm stuck back at PowerDesk Pro 5, I need to start focusing on other options.

PowerDesk Pro 5 has a bug in how it handles NTFS partitions that seems to involve the date and time display. If you update a file in a folder, it will not only show the new date and time on that particular file, but often change the date and time on the folder itself, which is somewhat annoying. Seems confused about which to display - created time and date, last viewed, last updated, etc. Just not handling it properly, whatever the case.

MU Commander does not suffer from this anomoly, nor does Free Commander, I believe.

So, even though the pace of development on this product is quite slow, I still find it a valuable alternative and am grateful that it's available and free.
anomoly reviewed v0.8.1 on Nov 30, 2007
Only thing I really like is it aphabetizes everything correctly instead of by type.
Problem is, it is it's own interface and neglects your regular windows' options.
If it gave you your normal right click options it would be good. It refused to 'open' an ini file at all.
I guess for simple file operations it is ok, but freecommander blows it away-in resources too.
anomoly reviewed v0.8 on Oct 5, 2007
Nice. On windows I prefer freecommander's gui though. If I ever get around to running linux (unix?) f/t I will definitely use it
lokanetra reviewed v0.8 Beta 3 on Mar 11, 2007
When I first saw that this was programmed in Java, I immediately thought it was going to be slow and not very good. I'm beginning to have a renewed faith in Java apps. Starts-up pretty quick, seems to run well, no problems that I can see. I think this deserves a solid rating of 4. As this is a beta version, I believe future revisions will make it even better.
shtraue reviewed v0.8 Beta 3 on Mar 10, 2007
I do not understand the people bashing the app just because its based on some previously released piece of software. Norton Commander was very likely to have been inspired by its predecessor too, - XTree, released about a year earlier than Norton Commander.
DudeBoyz reviewed v0.8 Beta 3 on Mar 10, 2007
Nothing wrong with being a MULTI-Platform alternative to Norton Commander. Norton Commander was one of the best DOS apps ever created, and inspired the ubiquitous Midnight Commander on the Linux platform.

This update is particularly welcome on the OS X platform, but this is a very nice free app for Windows too, if you don't mind Java.

If they were charging for this, I'd be willing to be harsh, but the thing is a good product especially given that it is free.

The theme addition is nice - it brings it up to snuff with the GUI interface.
guti reviewed v0.8 Beta 3 on Mar 10, 2007
Nothing but a rip off of Norton Commander. The only difference is Norton Commander was here about TWO DECADE ago. (Thats more than 20 years btw lol).

The rest about muCommander... Well to bad implementing it in Java.
Whitay reviewed v0.8 Beta 3 on Mar 10, 2007
Nothing but a rip off of Total Commander (formerly Windows Commander). The only difference is Total Commander has been around for somewhere around a DECADE. (Thats 10 years btw lol)
JEdwardP reviewed v0.8 Beta 3 on Mar 9, 2007
I've never used a Java app. that I actually ended up liking, and this one's no exception. When I had an older machine, I was willing to entertain the possibility that the slow, resource-hungry performance of Java would irritate me less on a much newer machine.

Now I have that much newer machine, and find the performance of Java apps., this one surely included, still annoy me.

I'm sticking with FreeCommander. It's not perfect, but for my use, it's still the best file manager I've tried.