File Details

File Size
1.4 MB
License
Open Source
Operating System
Windows 2000/XP
Date Added
April 23, 2010
Total Downloads
13,861
Publisher
Casey Langen
Homepage
musikCube
Publisher's Description
musikCube is much more than an "mp3 player," it is a music library. It currently supports mp3, ogg, flac, and cd audio file formats. It also features an integrated cd ripper helping you take control of your music from the start. musikCube tries to stay as intuitive and attractive as possible without degrading the performance of your computer. We believe very strongly that your mp3 player should not exist only to be eye candy, but be a functional, cohesive part of your operating system. It is the vanilla audio player for Windows.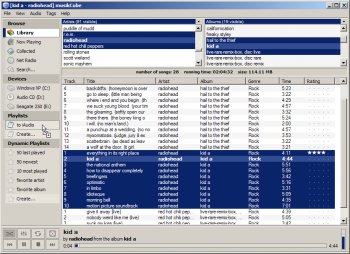 View Full-size
Latest Reviews
testmenot reviewed v3.3.2 on Feb 23, 2016
I am posting this THREE years after the Betanoob posted his report on malware in this file.

It looks like fileforum.betanews.com hosts or links to installers containing malware and does not take them down when reported by reviewers.

The download button /download/musikCube/1091033963/1

downloads from URL:

http://musikcube.googlec...om/files/mC2dm3.3.2.exe

File mC2dm3.3.2.exe has the following checksums.

MD5 checksum
a474aeeb7c3c55df587a9ac67fbb2153 *mC2dm3.3.2.exe

SHA1 checksum
792a5b5b9029afdb9297911fd1a1d4535a24ad68 *mC2dm3.3.2.exe

SHA256 checksum
348be75d52e3e866abca3f782ff146b86078c085f62cf04092540c4162de8e77 *mC2dm3.3.2.exe

VirusTotal analysis made today, February 24, 2016:
https://www.virustotal.c...e77/analysis/1456284867/

earlier analysis for the same file, posted by Betanoob on Jul 20, 2013
https://www.virustotal.c...e77/analysis/1374343153
Betanoob reviewed v3.3.2 on Jul 20, 2013
Fileforum is thee best place on the net to get your malware and spyware!
Nothing is tested

Detection ratio: 28 / 47

https://www.virustotal.c...e77/analysis/1374343153/
dikbozo reviewed v3.3.2 on Jul 20, 2013
DO NOT DOWNLOAD or USE this at all.

This is an old file from 2010 and contains malware. This is a known issue. The following link:

http://code.google.com/p...er%20Summary%20Modified

has much info.

You have been warned.
kaiendono reviewed v1.0 on Aug 24, 2008
This app is fantastic and probably has one of the best UI in the audio player market these days there are a lot of shortcomings in some expected features and bugs that linger on.

The last stable release is almost two years old now. It is really sad that the project entered a stall state in development because if was shaping up to be the best player out there.

I keep coming back to it once in a while but the lack of updates turns me off the project each and every times. :(
dono1216 reviewed v1.0 on Jan 16, 2008
Nothing fancy here, except the fact that it's the most efficient player I've seen that's actually usable. I've used it on *very* low end PCs running 2000/XP (it works fine under Vista, too) with tens of gigabytes of songs, no problem. The internal database system is fast fast fast for searching songs. It's also music-oriented (hence the name), unlike other players who try to be video players etc. I don't know how it does with streaming, as I don't use it. I also don't know how well it rips CDs, as I use WMP or Audiograbber (another classic) for that purpose.

The downside is that development of Musikcube seems slow - although I'm unsure myself what to do with such a good piece of software.

One annoying bug I've found is that on a few setups (XP with Windowblinds, Vista), sometimes I can't see the scroll bar and volume control. I'm pretty sure this is a compiler problem, though.
brusco reviewed v1.0 on Oct 4, 2007
Powerful, unpretentious, relatively small memory footprint, fast scanning of large folders of music.

Only down side is that it comes with no build in urls to net radio/podcasts in the library, but thats not enough to knock it down to 4/5.
Tao2005 reviewed v1.0 on Sep 20, 2007
Good MP3 player, but doesn't support the mac version of MP3 like jetaudio, qcd, qmp, winamp, and Itunes, do.
Dasteez reviewed v1.0 on Jun 4, 2007
This is probably the best music program out right now. I've never been a fan of WinAmp, and WMP11 is too much of a resource hog. I liked FooBar, but MusikCube does a better job with playlists. Plus it has the addition of Dynamic Playlists, which are actually quite useful for playing the music in your library that you're in the mood for.
SuzzyWoozy reviewed v1.0 on Dec 6, 2006
Well, I wasn't sure if I should say a word about this proggy, but after noticed:
+ The resource usage: unnoticed memory and cpu footprint! I was really impressed, these days is common for all players to use alt least 20MB but this one never crossed 8MB (takes only 2MB when minimized).
+ clean an (kind of) classic interface, no skins and other bloated stuff
+ clean accessible options.

… I've said to myself that it deserves at least a good review.

The download fails on me (only half of the files were downloaded), therefore I've took it from another source:
http://www.free-codecs.com/download/musikCube.htm

Good job!
Othalian reviewed v1.0 on Dec 6, 2006
May I start by saying that this could be a false positive.

I have just rediscovered MusikCube and promptly installed it onto my system. During the installation I became concerned when I received a trojan.Win32.Codec1 warning from my anti-virus software (Comodo), not only once but twice. There was also a second warning saying MusikCube was attempting to hook into a low level area, sorry but I couldn't get the details about this. I have conducted a search on the net for this "Trojan" but can't find anything. I have placed a bug report on MusikCube's site so they can have a look at it. With luck it will be quickly resolved as this is an excellent program. The low rate reflects this "problem".