File Details

File Size
16.0 MB
License
Shareware, $99.95
Operating System
Windows 7/8/10/11/Vista/XP
Date Added
October 6, 2022
Total Downloads
22,623
Publisher
FinePrint Software, LLC
Homepage
pdfFactory
Other Versions
Publisher's Description
pdfFactory is the first PDF creation tool designed for non-expert users. Anyone can create PDF documents that can be published on Web sites, emailed, or archived. PDF files are used to represent printed material electronically. When viewed and printed, they contain all the fonts, graphical information, layout and formatting of an original printed document. A PDF file can be viewed on any operating system including MacOS, and all Unix variants including Linux.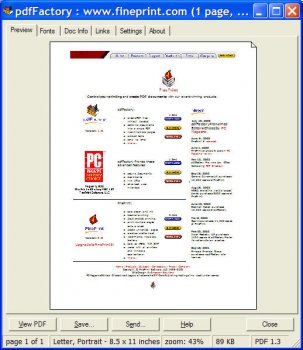 View Full-size
Latest Reviews
SoundMix reviewed v7.34 on Jul 10, 2020
Why does anybody use this? I don't anymore.
NewNewz reviewed v5.16 on Sep 19, 2014
This is quite a good product but I think it is too expensive for what it is, especially when I've read that people can get free programs that do the same thing.

Of course it is much cheaper than Adobe so that's one thing!

It does a good job and is user-friendly but I would prefer it was cheaper.

You can buy it here: http://simplenewz.com/20...-Directories/feed/22227
shroom reviewed v5.12 on Jul 9, 2014
Of all Adobe alternatives I tried, this one has the best rendering.
zapatero reviewed v4.0.1.0 Beta on Jul 26, 2010
It may be expensive, but of course it supports Windows 7 x32 and x64, no problem at all. And, in my experience, the rendering is excellent.
simpo reviewed v3.51 on Nov 9, 2009
that's too expensive! it dosent deserve and even cant support windows 7!so i think i should still support Simpo PDF Creator,it's better than this.i think everyone who are trying to use this one have to use the same with me,it's really better! you can check it! http://www.simpopdf.com/pdf-creator.html i am serious!
oomingmak reviewed v3.49 on May 13, 2009
The accuracy of the font rendering in PDF Factory is absolute rubbish.
DudeBoyz reviewed v3.45 on Feb 27, 2009
This is not a bad product. But I do not think it is as competitive a product as it could / should be.

There are many free apps that do much of what this one does, and some do it at least as well.

That said, it is a bargain compared to purchasing the entire Adobe version, and if you need those higher-end features that only come with the paid versoin of this product, I think it is a solid alternative to the Adobe original.

I feel a rating fo 3.0 is fitting, given all of this.
Doubledoom reviewed v3.40 on Jan 28, 2009
Had to go back to 3.38 as 3.40 crashes computer on x64. As does fineprint 6.05 (6.04 is fine). Quite a few are reporting this problem
harryou reviewed v3.40 on Jan 19, 2009
Version 3.40 spooler has problem working with Citrix universal printing driver. Change to version 2.7 solved problem. Fineprint 6.05 shares same problem too (same spooler?).
Doubledoom reviewed v3.38 on Oct 23, 2008
No font rendering problems here. I use it integrated with fineprint and it does exactly what is needed.

Sure there are many pdf printers nowadays and there are many similarities but the stacking and letterhead features are particulary useful for me.