File Details

File Size
1.5 MB
License
Freeware
Operating System
Windows 7/2000/Server 2003/Server 2008/Vista/XP
Date Added
March 5, 2021
Total Downloads
8,974
Publisher
3DP
Homepage
3DP Chip
Publisher's Description
3DP Chip will scan your computer hardware and automatically find the latest driver available for your individual hardware configuration, and external devices. The software provide you with a list of the drivers that require updating, find the correct download and upgrade those drivers. Supports an amazing selection of brands, including Acer, Toshiba, HP, Sony and others.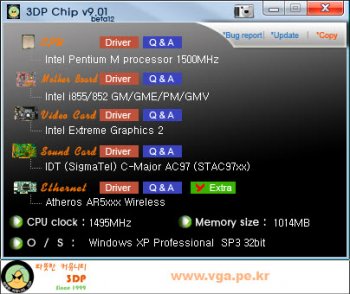 View Full-size
Latest Reviews
GadgetPig reviewed v9.10 on Dec 20, 2009
Just a heads up guys, the 3DP site was flagged as possible warning flag by Google.

http://safebrowsing.clie...02063/3DP_Chip_v910.exe

"What is the current listing status for csd.ks.ac.kr?

Site is listed as suspicious - visiting this web site may harm your computer.

Part of this site was listed for suspicious activity 2 time(s) over the past 90 days.

What happened when Google visited this site?

Of the 12 pages we tested on the site over the past 90 days, 10 page(s) resulted in malicious software being downloaded and installed without user consent. The last time Google visited this site was on 2009-12-15, and the last time suspicious content was found on this site was on 2009-12-15.

Malicious software includes 6 scripting exploit(s), 2 trojan(s), 1 exploit(s). Successful infection resulted in an average of 3 new process(es) on the target machine.

Malicious software is hosted on 12 domain(s), including ragero.ru/, fw-schonstett.de/, sunderman.nl/.

This site was hosted on 1 network(s) including AS9691 (KYUNGSUNG).

Has this site acted as an intermediary resulting in further distribution of malware?

Over the past 90 days, csd.ks.ac.kr appeared to function as an intermediary for the infection of 1 site(s) including kyungsung.ac.kr/."
Pkshadow reviewed v9.10 on Oct 5, 2009
It still needs improvement for drivers and identification of them.

As for Floodland it is obvious I have Intel Chipsets but the obvious point is it is directing me to Intel m/b's that I do not own and the drivers that go with them.
If I were to install their suggestions system would not work do to "wrong drivers being recommended" .
Program must be taken with a grain of salt and do your research before installing and this also includes the program from DriverMax as it comes up with tons of drivers and if you install the wrong one poof.
It is best to identify your m/b and go to the maker ie Asus and download from there.
Intelchip set inf file is most of the time updates what you have but that can be found at the intel web site as can the maker of your vid card.
Go to the proper source first before you use any of these programs recommendations
Also Win7 has proper update files for most things ie network card, monitor though recommend going to the maker of the monitor for drivers.
This/these are a lazy persons way of toasting your system and I stand by this comment as I rant and rave about what a a** that. Floodland is and learn to read.
fatray reviewed v9.10 on Oct 5, 2009
Sent me to a web site to download another program called Driver Robot. http://driver-pro.com For most of my hardware. Only real web site it sent me to was Nvidia.com.
yleclerc reviewed v9.10 on Oct 5, 2009
Works as suggested but tends to re-direct to those "all in one" driver update tools, which do "kill" working Windows set up, in my opinion. Would be a useful tool otherwise!
Floodland reviewed v9.10 on Oct 5, 2009
Good software, it detects and provide links to download latest drivers. Drivers linked for the computers I tested were recognized correctly.

Pkshadow, I bet the abit board you own has an intel chipset, abit does not build their own chipsets. Before write a review you should check your information before ranting for no reason...
Blue Joker reviewed v9.07 Beta 30 on Aug 1, 2009
a pity
Pkshadow reviewed v9.06b22 on Jun 23, 2009
Again this program does identify what is installed but it wants me to install a Intel Motherboard driver for a Abit motherboard. That is a wrong thing to do and only asking for trouble,
It identifies a driver hotfix from MS 2007 for dual core. It is not needed in Win7.'
It does identify and find my ATI vid card drivers but also wants me to install a MS Hotfix for dual cards when I do not have dual cards.
This program again rates a "0" if could as it would ruin a install in no time at all if followed their suggestions.
Worse than Bad
breebree reviewed v9.05 Beta 15 on May 16, 2009
took a bit to figure out.. but it works fine for me. the drivers sujusted were hiden till i clicked on the plane text.. but all driver updates worked fine.
Pkshadow reviewed v9.04 Beta 30 on May 1, 2009
Poor work though is light weight.
Driver pages come up with no information and what it does I would not trust.
For my ethernet card it wanted me to download the program again.
For my MB it wanted me to stick a unknown intel MB driver in.
No trust in this program, no information about the drivers gets it a zero (0) if could.
anomoly reviewed v9.03 Beta 20 on Mar 20, 2009
I like it because there are no dependencies whatsoever and it displays the most pertinent info about a system at a glance in one window. Driver downloads? I can hardly fault this for not giving me 'better' drivers, or any at all for that matter. 441Kb is also easy to stash