File Details

File Size
4.0 MB
License
Freeware
Operating System
Windows (All)
Date Added
April 5, 2013
Total Downloads
44,229
Publisher
Vigovsky Alexander
Homepage
AC3Filter
Publisher's Description
AC3Filter is a high quality free DirectShow filter designed for real time audio decoding and processing. It has a priority on wide functionality and convenient settings. Filter can decode following audio formats: AC3/DTS/MPEG Audio. It also supports multi-channel and digital (SPDIF) outputs.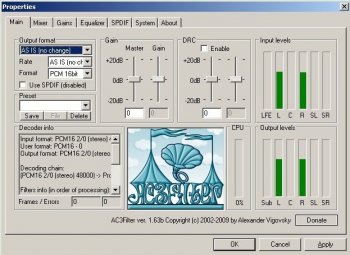 View Full-size
Latest Reviews
mikebratley reviewed v2.6.0b on Mar 11, 2014
very good
chrispaul reviewed v2.6.0b on Feb 17, 2014
i like it
Assirius reviewed v2.2a on May 18, 2012
It is getting updates frequently now , very good product , a must for all multimedia maniac people !!!
djb247365 reviewed v2.2a on May 15, 2012
The 2.2 version of ac3 Filter works pretty good for me. I use it in Media Player Classic - H.C., and I have no issues with it whatsoever. What I do like about it, is that I can customize the built-in equalizer, similar to that of an equalizer setting in Winamp, and it works well. Using ac3 Filter helps boost the volume and gives the audio a definite kick. I wouldn't need this if MPC-HC had a built-in equalizer of its own, but what's done is done. ac3 Filter works for me and I'll continue using it, until something better comes along.
Zootopia3001 reviewed v2.2a on May 15, 2012
ACM driver works again (was broken in v2.0a).
Who started this project up again? Probably best to stick with version 1.63b.
Three stars for this current effort. Five stars for v1.63b.
Poseidyon reviewed v1.63b on Jul 12, 2011
As flying using oil over ice !!!
:-) A myth in its genre !!!
Diam0nd reviewed v1.51a on Jul 9, 2008
Great!
Diam0nd reviewed v1.50a on Jun 30, 2008
A must-have utility. Simply great!
photonboy reviewed v1.46 on Aug 18, 2007
**There was a problem with the Installer of the first release of v1.46 and it has been modified. I recommend going to the Homepage to make sure you get the correct version.

I can't find any issues with this software. I have since switched to FFDshow and can't find any issues with it so I'm staying with FFDshow for most of my audio and video decoding needs in one package.

I noticed in the past that AC3filter would cause certain Divx encoding programs to fail unless 24-bit was changed to 16-bit. I can't remember if it had to be STEREO as well. I'm pretty sure the official Divx Converter was affected.

I don't know which program is at "fault" so I can't take marks off.

Anyway, AC3filter is a great audio application which is comparable to FFDshow's audio components. People's audio needs vary so I'd try both but I recommend leaving only one installed.

Good link: http://www.k-rad.hk/?p=156
war593122 reviewed v1.45b on Jun 8, 2007
* ACM codec is now included into the package
* Tab labels are now translatable
* All languages available so far integrated
* Avoid poEdit '\r' warning when creating a translation file
* Warning messages about dangerous options
* Loud noise was possible after output format switch or SPDIF state change
* Audio skips problem fixed once more