Publisher's Description
Agnitum Outpost Security Suite Pro is a comprehensive security product to protect home and small office users against the entire range of modern threats. With it, you'll enjoy: Safe Internet presence behind the best-of-breed personal firewall; Integrity of your personal data by having the Host Protection module preemptively block unauthorized program activity; 360-degree protection against all forms of malware; Protection that is immune to unauthorized termination; Personalized, easily adoptable anti-spam for Outlook and Outlook Express users; and Easy installation and auto-configuration for novice users.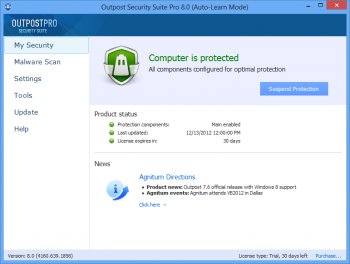 View Full-size
Latest Reviews
NyaR reviewed v8.0 (4164.639.1856) on Jan 16, 2013
The drivers are signed, you should run windows update and get the latest certificates.

As for the program - rock solid security but I wouldn't trust my life with their AV definitions just yet.
raz0r reviewed v7.5 (3709.574.1667.464) RC2 on Jun 9, 2011
Very good security program. Betanews looks clean no adds. I own the Outpost Security Suite Pro Lifetime license, good for three computers.
TROLL reviewed v7.5 (3709.574.1667.464) RC2 on Jun 9, 2011
best trollware ever
Phat Esther reviewed v7.5 (3663.571.1653) Beta 3 on Apr 21, 2011
Outpost 4 5 and 6 was the forgotten past, but 7 the best FREE firewall again.
Aires reviewed v7.0.3 (3392.517.1242) on Jan 23, 2011
Release date: December 10, 2010
Version: 7.0.4 (3412.520.1245)
Size, MB: 85.8 (x86) / 97.0 (x64)
pjb reviewed v7.0.1 (3376.514.1234) on Jul 21, 2010
It's improved over the year, however still slows my pc down rather a lot.
Will stick with Norton 2010/2011 which does not have major impact.
wat0114 reviewed v2009 (6.5.3.2518.381.0686) on May 3, 2009
Overall a nice, comprehensive product. There should, however, be an easy way of turning off the advertising and it still suffers from the "zero bytes" problem in the firewall logs under Event viewer. It's only these latter two issues that compel me to rate it a 4. The Lifetime license is an excellent deal and certainly worth consideration for those looking for an all-in-one security solution.
eclipsingdivinity reviewed v2009 (6.5.2509.366.0663) on Jan 9, 2009
This firewall runs along Norton Antivirus 2009 for me, and I just recently purchased the lifetime license of Outpost so i'm going to have it for a long time.

I'm currently running it with the antispyware not installed, and the content filtering not installed. I have an advanced firewall without the extra features. Normally I would recommend you install the extra features because they are fantastic, but since i'm running Norton, there simply wasn't a need.

However in my tests of Outpost, it didn't stealth my ports even in stealth mode (No big deal), It was however successful in detecting every leaktest sample I threw at it. The antispyware component did a wonderful job of cleaning up my infected virtual machine. In fact it was one of the few cleaners to do a thorough job without crashing.

Conclusion: It works as advertised. I wont even dock it for not stealthing some ports. Only paranoid people get worked up over port stealthing. Firewall works great, you can block advertisements, block malicous websites and keep your PC's traffic under your watchful eye. It's Antispyware will shield from the creepy nasties and it does it well.

Just make sure you pair it with an Antivirus program like AVG, Avast or Antivir.
Budgie29 reviewed v2008 (6.0.2220.223.446.277) on Dec 6, 2007
becasue their are two versions a freeware version and a subscribe version
anomoly reviewed v2008 (6.0.2220.223.446.277) on Dec 6, 2007
The updates are what you pay for. As I only want & need the fw itself-I don't need any.