File Details

File Size
2.5 MB
License
Freeware
Operating System
Windows 7/8/Server 2008/Server 2012/Server 8/Vista
Date Added
June 6, 2016
Total Downloads
8,416
Publisher
Softpointer Inc.
Homepage
AudioShell
Publisher's Description
AudioShell is a free MS Windows Explorer shell extension pluggin which allow you to view and edit music files tags directly in Windows Explorer. It support mp3 (all ID3v2 tag versions), wma, asf and wmv, Apple iTunes aac (m4a and m4p) and mp4 files, ogg, flac (vorbis comment tags), mpc , mp+, monkey's audio, wav pack, optim frog (APE and APEv2 tags). The add tag editor and viewer tabs to music files properties page, detailed music files hint with tag and file information and additional columns in Explorer files list. It include full Unicode support.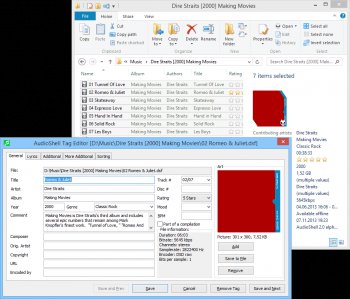 View Full-size
Latest Reviews
Hilbert reviewed v2.0 Beta 1 on Nov 14, 2013
Wow, at last a program I can say something positive about (the others I reviewed earlier today were dogs). Anyway, AudioShell is a useful and very handy context menu tag editor.

AudioShell is ideal when wandering through or sorting directories of AV files--trying to put them into some semblance of order etc. If you're doing general file maintenance and you've a mixture of AV and other files thus it makes sense to work in Explorer, then AudioShell saves you the effort of having to load TagScanner or MP3Tag etc. just to change a few tags.
TuxmanXP reviewed v2.0 Alpha 1 on Nov 7, 2013
It's back! Yay!
Ted. reviewed v1.3.5 on Sep 2, 2007
Works perfectly on my XP SP2 system. So convenient and easy to use. Full marks to the authors. The only thing lacking for me is support for Xvid files.
boaz reviewed v1.3.5 on Apr 15, 2007
Ok, I installed this today. I do get tag information when I place the mouse over an mp3 file. However, the Audio Shell editing feature when I right-click > Properties is not there. I tried uninstalling/re-installing & rebooting but it still does not show in the properties window.

Unfortunately there are no FAQ's or any other help at the web page. So, I don't know what is going on with it.
darthbeads reviewed v1.3.5 on Mar 1, 2007
Fantastic program. Would love to see 64-bit support.
JEdwardP reviewed v1.3 Beta 2 on Sep 30, 2006
Works perfectly on both my XP-Home and XP-Pro machines, and the authors have been very receptive to suggestions, such as adding support for additional audio file formats.
hap8192739 reviewed v1.3 Beta 2 on Sep 30, 2006
I have tried two releases of this extension and it has never produced the enhanced properties it claims it does
anomoly reviewed v1.2 on Aug 6, 2006
If you like this try also MP3ext
http://www.mutschler.de/mp3ext/
-last update in '04 but gives your mp3 files a bitrate icon (themeable)as well -sweet
Tokar reviewed v1.0 Beta 1 on Jul 4, 2005
Absolutely amazing.

The only thing I dont like is that yellow balloon popup when hovering my mouse over music and video files is now 10 times as big as it was before using this program.
Quite annoying. I think I might turn off those balloon popups...Ill see.
Nikkie reviewed v1.0 Beta 1 on May 24, 2005
Does everything i needed a tagger to do . It went passed my problem with some of my mp3's reading as ''read only'' .

This is easy and quick . Keep up the great work !!