Publisher's Description
ClamAV is an open source (GPL) antivirus engine designed for detecting Trojans, viruses, malware and other malicious threats. It is the de facto standard for mail gateway scanning. It provides a high performance mutli-threaded scanning daemon, command line utilities for on demand file scanning, and an intelligent tool for automatic signature updates. The core ClamAV library provides numerous file format detection mechanisms, file unpacking support, archive support, and multiple signature languages for detecting threats. The core ClamAV library is utilized in Immunet 3.0, powered by ClamAV, which is a fast, fully featured Desktop AV solution for Windows.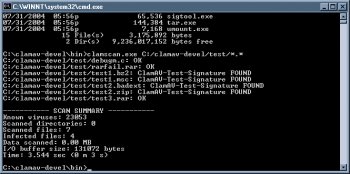 View Full-size
Latest Reviews
mikebratley reviewed v0.95-1 on Mar 11, 2014
excellent
chrispaul reviewed v0.95-1 on Feb 17, 2014
i like it
Music4Ever reviewed v0.97.4 on Mar 28, 2012
Use this in Linux, seems to work OK.
Input Overload reviewed v0.96.5 on Feb 10, 2011
Worth dowloading as a backup check with other bloated Anti-Malware scanners. it's free too!.

Malwarebytes, NIS 2011, Super Anti-Spyware or Hitman found no malware in this application
anomoly reviewed v0.96.5 on Feb 9, 2011
I don't use anything but portable clamwin and it only runs when I tell it to. It must absolutely suck to be someone who actually needs av software always running. I suggest if that is the case to get a better fw.
Strange91 reviewed v0.94.2-1b Beta on Mar 14, 2009
Poor Detection but less resource usage
sn0wflake reviewed v0.94.2-1b Beta on Mar 10, 2009
Couldn't agree more with Fresh Fruit From France.
Kylde reviewed v0.94.2-1 on Jan 6, 2009
wow, NOD32 2.70 claims MULTIPLE infiltrations of this download?
It's great that it's free, but Avira AntiVir is lonely at the top in AV-land.
odellkevin reviewed v0.93.3-1 on Jul 12, 2008
"ballyhairs & robmanic44"
Uhhhhh......is that suppose to be a review for ClamAV or NOD32? I'm a bit tired of people who write a "review" by saying how much they love another product, that's not a review. If you don't like ClamAV, say so and why, if you love NOD32 so much, go write a review on that page. I think ClamAV is a great, free AV product. I keep the portable version on my thumbdrive and use it to check "strange" computers (ie. hotels, libraries, cafes, etc), before I use them.