File Details

File Size
1.0 MB
License
Freeware
Operating System
Windows 2000/9x/Server 2003/XP
Date Added
August 1, 2004
Total Downloads
1,274,692
Publisher
DVD Shrink
Homepage
DVD Shrink
Publisher's Description
DVD Shrink is software to backup DVD disks. You can use this software in conjunction with DVD burning software of your choice to make a backup copy of any DVD video disk. The output from DVD Shrink is saved as files on your hard drive, which you can then burn to a DVD-R using separate burning software, such as the software provided with your DVD-R drive.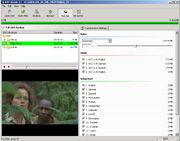 View Full-size
Latest Reviews
finn reviewed v3.2.0.15 on Aug 3, 2012
@swexpert - As far as I can see the 2012 version of DVD Shrink is a commercial product, priced at $28.95 (USD). Would be willing to pay that amount if the product was really that much better. Is it?
swexpert reviewed v3.2.0.15 on Jul 18, 2012
i have dvd shrink 3.2 since long time but this year i upgraded to this dvd shrink 2012 version here http://www.official-dvdshrink.org , there is in the software a conversion tool plus it's compatible with windows 7 and vista, much better version than this!
carlvui reviewed v3.2.0.15 on Oct 20, 2009
Never had any problem with it. Works flawlessly. Thank you guys for making it.
mromeo reviewed v3.2.0.15 on Dec 28, 2007
Its a old app compared with new ones that are out today. But it does what it should do and does it perfect. If you find a DVD it can't backup. Use DVDFab HD Decrypter to rip to the hard drive then use this program on the output files and you will be good to go.
improvelence reviewed v3.2.0.15 on Aug 24, 2007
Awesome program but losing its edge as it has been discontinued. DVDFab decrypter is better.
cowgaR reviewed v3.2.0.15 on Jun 20, 2007
linkdup: do not use this excellent piece of software for decrypting *your original* DVD resources for backups.

Use it just to "put them on DVD5". As it has the best compresion algorithm and picture results (using deep analyze + error compensation - sharp) it'll be the main "shrinking" app for many years to come (it is still better than Nero Recode for me).

For decrypting, use DVD Fab Platinum or Express version which is free. It is hassle free app, you put DVD on hard disk, and shrink it with shrink...great ;)
linkdup reviewed v3.2.0.15 on Apr 4, 2007
I wish they would update this software for current copy protection schemes. It's an awesome program but lately I've been finding quite a bit of them that wont copy.

I would rate it a 5 but they need an update BAD.
nikia25 reviewed v3.2.0.15 on Feb 22, 2007
Good Stuff every burner should have it at the ready.
The_Unknown reviewed v3.2.0.15 on Jan 31, 2007
You can output it as .ISO!
ballyhairs reviewed v3.2.0.15 on Oct 11, 2006
It could be perfect if I could have the output as image file also... too bad that option is not there.