Publisher's Description
Dead Pixel Tester - TFT screens have thousands of pixels, on a 1024x768 monitor, there are three cells for each pixel - one each for red, green, and blue - which amounts to nearly 2.4 million cells (1024x768x 3 = 2,359,296). There's only a slim chance that all of these will be perfect; more likely, some will be stuck on (creating a "bright" defect) or off (resulting in a "dark" defect). Simply select a color then closely inspect your monitor in each of the primary colours checking for pixels that are not operating as expected. Stuck pixels (always on) are easier to noticed then pixels that are not on due to their size (normally under .5mm).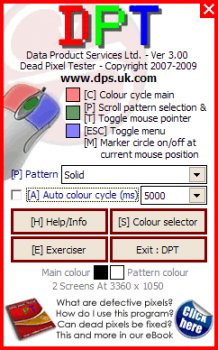 View Full-size
Latest Reviews
Morningdove reviewed v3.00 on Nov 30, 2009
A useful program to have in your toolbox.

I find NO adware in this standalone executable.
Neither does Softpedia or CNET.
Skyfrog reviewed v2.50 on Feb 13, 2009
Um yeah, I already have one of these. It's called Microsoft Paint. Seriously, you just need something to display the three solid colors on your screen and look for stuck or dead pixels. Usually you don't even need that, I mean if you have to go to such lengths to even find them why bother. Mostly I don't like adware though, especially useless adware.
ssb reviewed v2.50 on Feb 12, 2009
Adware (!!!) No thanks.
kbsoftware reviewed v2.50 on Feb 12, 2009
Nice program, but there are better.
It's not freeware, but ad sponsored. I don't think it goes online to get the adds, they are built in to the program but that doesn't make it freeware.

Just my 2 cents until I get a cut of bail out money :)
Paul Skinner reviewed v2.50 on Feb 12, 2009
UDPixel is far more useful.

It can actually fix the *stuck* pixels as well as detect them. Dead ones are dead and can't be saved.
Hall9000 reviewed v2.30 on Oct 15, 2007
Does the job supposed to do. Like the Nokia Monitor tester but with added dead pixel finder. Aires commented about a lack of help but it really is straightforward to use. Maybe when he tried it they didn't have the "Help and about" button? Since this can only show a problen that can not be corrected, like a dead pixel, I can't see what could have been added more than the examples of dead pixel appearances. Anyway, I give it a five.
anomoly reviewed v2.20 on Jul 25, 2006
"What is the point of this program?"
"Dead Pixel Tester" if i'm reading it right.
Link broken
http://www.dps.uk.com/download.php?file=4
zee7 reviewed v2.10 on Mar 2, 2006
Very useful in diagnosing possible monitor problems.
Aires reviewed v2.10 on Jan 26, 2006
My monitor's years old and I'd be suprised if there were no dead pixels. So unless that's the case then I'm not using this app right and that's gotta be because the help for using this is non-existent. I'm not sure if I'm using this right or not and until the help improves - a lot - only two stars I'm afraid.
matt2971 reviewed v2.10 on Jan 26, 2006
Well yeah, I can already see I have a stuck red pixel... I'll give this utility 5 stars when it can fix the damn thing ;-)