File Details

File Size
25.7 MB
License
Freeware
Operating System
Windows 7/8/10
Date Added
November 4, 2021
Total Downloads
30,145
Publisher
Astonsoft Ltd.
Homepage
EssentialPIM
Other Versions
Publisher's Description
EssentialPIM handles all your scheduling, contacts, to do lists, and notes with easy-to-use, intuitive tools.
This absolutely free personal information manager can store, manage and encrypt data: day/week/month/year schedules, to do lists for keeping all your tasks up-to-date, notes (pictures, tables, any formatted text), and contacts. Offers Rijndael 128-bit encryption, MS Outlook import/export, Windows Address Book import/export, search capabilities, versatile print features, and adjustable contacts storage with unlimited fields.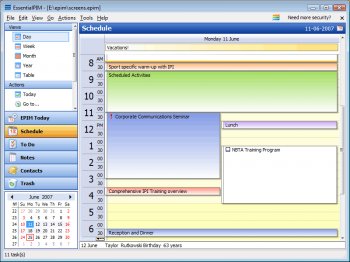 View Full-size
Latest Reviews
Golfy reviewed v4.24 on May 24, 2012
EPIM is an Outlook like application but... it is more powerful !
First, it has a portable version and a network version (collaborative)
Second, each function is very fast and powerful :
* it's possible to search in any modules (todo, appointment, contact, password manager, notes, emails) in real time (match elements are showed while writing the word).
* it's possible to define tasks AND sub-tasks (try this with Outlook < 2010)
* It's multi-language (english, deutsh, italiano, français... and a lot of other)
* it's possible to synchronize with a lot of products : Outlook, PocketPC, Palm, online web (Google, CalDav, Yahoo...) and EPIM team will works on Android and iPhone sync.
There forum lets write suggestions and support questions.
A minus point is documentation (there are a lot of features and help file is small)

Globaly, I've bought it in 2000 and I still fond of EssentialPIM : give it a try with Free version (limitation on numbers of events or sync method)
DaComboMan reviewed v3.5 on Apr 12, 2010
Got an error message too!

Tried the pro version as well, even worse.
Should be marked "beta".
rip_pit reviewed v3.5 on Apr 10, 2010
Got an error when opening my previous EPIM database with this version
"Violation of primary unique key on contact table ..."
The app is great but this version won't open my database
anomoly reviewed v3.22 on Jan 21, 2010
For whatever reason I could not find a standard calendar view (month...?).
Uk'sKalendar solved that and Kurlo took care of contacts beautifully (just remember to use a fairly simple password!).
Finally decided to dedicate software for my contacts and other than using tbird with lightning (never again) there was simply nothing else for free.
I doubt essential pim free can compete with kurlo in the contact dept I just couldn't get past the fugly calendar views- (ughh)
Blaxima reviewed v3.04 on Jul 13, 2009
@some douche

That was 4 releases ago!! to which they quickly released another version 3 days later (which surprise surprise NOD had nothing to say about).

Learn to read
some guy reviewed v3.04 on Jul 13, 2009
their is no virus, learn to use your pc
scanned
http://www.virustotal.co...c9254ccd9280-1247516819

Look at the link you downloaded it from lol go get you nod32 off mini-nova lolol

now go back to your AOL browser and get your self some real media
epim1 reviewed v3.01 on May 23, 2009
I represent developers.
NOD32 is wrong, there is no any badware. You can check with any other reputable protection software.
Blaxima reviewed v3.0 on May 20, 2009
Well this is a first. I've had my problems with this software but when it works its pretty good

BUT Nod32 says;
"http://downloads.essentialpim.com.s3.amazonaws.com/essentialpimport3.zip
probably a variant of Win32/Statik potentially unwanted application connection terminated - quarantined
Threat was detected upon access to web by the application."

Its' probably some adware they have bundled but other things have adware and don't elicit this response and this never has either so....
Diam0nd reviewed v3.0 RC on May 13, 2009
The best PIM on the market, imho. Free version is good, but pro simply kicks as.
I like that it's fast, lightweight and flexible. Also, you can sync it pretty much with everything starting from gCal to Outlook AND you can even sync over a network between epims!
some guy reviewed v2.81 on Dec 3, 2008
just a nice to do contact organizer that's free