File Details

File Size
0.2 MB
License
Open Source
Operating System
Linux, Mac, Windows 2000/9x/Server 2003/XP
Date Added
August 26, 2011
Total Downloads
50,375
Publisher
Tony Gentilcore
Homepage
Fasterfox
Publisher's Description
Fasterfox includes performance and network tweaks for Firefox. It will Prefetch Links, Tweak Networks, Block Popups and includes a Page Load Timer.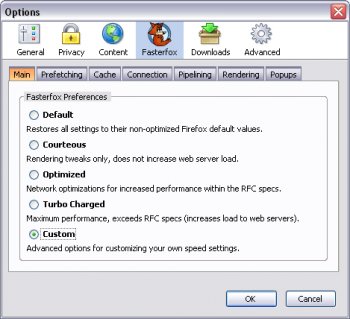 View Full-size
Latest Reviews
Scary Guy reviewed v3.9.7 on Aug 27, 2011
I don't think I've ever uninstalled anything so quickly. I used to use this, then it was never updated and I was excited to see some activity again.

This new version, as soon as I clicked on "custom" it popped up a list of software to download, and reading through it I realized I'd seen it all before and didn't like any of it. Then after clicking "Finish" it said I hadn't clicked on anything and wanted to know "would you like us to select some for you?" and then I couldn't leave it on my system because it just made me feel dirty.
niknetpc reviewed v3.9.7 on Aug 26, 2011
Firefox itself is not a slow browser,this addon useless,its like Ferrari has a booster))
Kabak reviewed v2.0 on Dec 10, 2008
huhu, this plugin proved it´s worthyness. i.e. i could grow up the loading time for imagefap up to 500% or other sites witch are very slow. the http pipelining ist great! it definitve works fine!

greets
precurgent reviewed v1.0.3 on Jan 18, 2006
Does nothing good for me, "advanced prefetching" doesn't seem to work at all. It actually slows down Firefox for me, by making page loads hang. Could be an extension conflict, I don't care to diagnose... All the stupid "tweaks" this thing does have been in my user.js file for eons anyway.
Zoroaster reviewed v1.0.3 on Jan 17, 2006
A very nice Velocity Center (sounds nicer than Speed HQ!).
I'm still careful with the 'Advanced Prefetching' option. I haven't encountered any problems yet, but I do turn it off on moody days: issues are said to be experience related...
rafaelcage reviewed v1.0.3 on Jan 17, 2006
Fasterfox is an incredible extension, your browser will run faster like a car of NFSMW!!
waysie reviewed v1.0.2 on Dec 22, 2005
Works fine, but cuts some of images :/ .
crashoverride reviewed v1.0.2 on Dec 12, 2005
excellent extension. No issues with it at all and contrary to others i've had no loading slowdowns. I was kind of disapointed by it being removed fromt the options window but for me this is one of those extensions you set and forget. So it really is nice not to have it stairing me in the face when I open the options window.
Richardky reviewed v1.0.2 on Dec 12, 2005
i still like the ease of tweaking my firfox without the need to do so manually anymore but im very dissapointed that they removed the gui from the options menu this sucks...no good guys put it back..i went back to older version!
GoodThings2Life reviewed v1.0.2 on Dec 12, 2005
I really like it on "optimized"... but that's because I don't like the thought of prefetching. Haven't experienced any issues with it.