File Details

File Size
14.6 MB
License
Shareware, $49.95
Operating System
Windows 7/8/10/11/Vista/XP
Date Added
October 6, 2022
Total Downloads
30,050
Publisher
FinePrint Software
Homepage
FinePrint
Publisher's Description
FinePrint is a Windows printer driver that provides advanced printing capability. You can create booklets, print double sided on any printer, print on your own electronic letterhead, and create new documents by combining your print jobs together. You can add gutters for binding all with complete assurance that the printed output will match the preview on screen.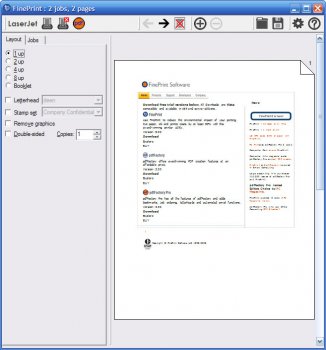 View Full-size
Latest Reviews
SoundMix reviewed v10.34 on Jul 13, 2020
I used this program...15 years ago. My printer now does all of this for free.
Vantorax reviewed v7.10 on Sep 14, 2012
Great tool.
stisev reviewed v7.04 on Jul 3, 2012
Excellent piece of software... still 5 stars, but priprinter is currently the king of virtualprinter/previewers.
asaenz reviewed v6.20 on Feb 26, 2011
Years ago I used an older version and it seemed to have more features than the newer version so it seems like you're getting less for your money nowadays. But I do like the print quality of FP more than other programs that do the same ... seems easier to read and that is important.
tischla reviewed v6.20 on Jan 11, 2011
good software but:
-changes in update to confuse user
-updates are real bad to do...(or am I to stubid?)
Diam0nd reviewed v6.06 on Feb 3, 2009
Version 6.06 - January 29, 2009

fixed installation errors in AddPrinterDriver and AddPrinter that happened on some systems

fixed an AutoSave problem that sometimes caused large files to be saved incorrectly

fixed a bug where selective printing (e.g. "print this page") sometimes printed the entire job when pdfFactory is the destination printer

when sheets and pages mean the same thing (Bypass or 1-up, single-sided), redundant menu commands "print this sheet" and "print selected sheets" are no longer shown

the FinePrint uninstaller now sets the Windows default printer back to the current destination printer, if FinePrint is the default printer at the time of uninstallation

now properly handles the case where a user logoff or system shutdown is started while the FinePrint window is open

the variable now works correctly in stationery when job separation is enabled

the "FinePrint 2-up Letter" paper size now appears as a choice in application (e.g. Word) Page Setup dialogs

Windows 7 is now supported

text runs can now be longer than 255 characters

(Server Edition) improved propagation of printer settings (e.g. paper size, "Do not show dialog") from the server to the clients
Doubledoom reviewed v6.05 on Jan 20, 2009
6.05 x64 version is broken (as mentioned below). It crashes when printing from 32 bit applications. Stick with 6.04 for now.

I took another look at Pri and couldnt find multiple letterhead support and the quality of the logo (in bmp form) was lower than that I could achieve on fineprint. I believe that for many people, the two pieces of software are really aimed at different target markets but have a few overlaps which may catch a few people in the middle.
Defenestration reviewed v6.05 on Jan 15, 2009
Doubledoom - PriPrinter supports both letterheads (print from any app to PriPrinter and then select Save As Form...) and per tray settings.
zapatero reviewed v6.05 on Jan 15, 2009
6.05 (and pdffactory pro 3.40) did not work for me. They both failed when printing a web page from Firefox 3.0.5 (and Windows XP SP3). I went back to the previous version.
Doubledoom reviewed v6.04 on Oct 23, 2008
New interface with version 6* was really an unnecessary change but you quickly get used to it.

Took a look at the priprinter mentioned below but it doesnt offer a number of the fineprint features that i would need (letterheads, printing trays to name just two). So, on that basis I quick fineprint a 5 because it does everything I want and does it well.