File Details

File Size
4.9 MB
License
Shareware, $29.95
Operating System
Windows (All)
Date Added
January 25, 2011
Total Downloads
142,365
Publisher
Headlight Software, Inc.
Homepage
GetRight
Other Versions
Publisher's Description
GetRight works with your web browser to help you download files from the Internet. It can accelerate your downloads and can recover downloads if errors occur (resume downloading). It has many other advanced features such as scheduling, automatic dialing, and file searching.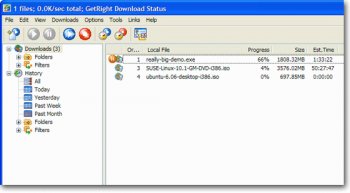 View Full-size
Latest Reviews
tickleonthetum reviewed v6.5 on Sep 16, 2011
Sadly this once great program is now virtually abandon-ware. There are several serious bugs in it that can lose your downloads that are likely never to be fixed.

Maybe one day someone will take up the mantel and it will again become a koing amongst downloaders...
Fafner76 reviewed v6.5 on Aug 3, 2011
This used to be a great download manager, but as of today there is no reason of this still being sold on their page. Development was abandoned years ago, and the "new" 6.5 version is nothing else that the previous one + a couple of things the author added/fixed long time ago before abandoning the project. Better to stick to programs still being worked on.
I emailed the author regarding several serious bugs, and got confirmation on each of them. That was about a year and a half ago as I write this. They persist to this day.
Rikrdo reviewed v6.3e on Jun 25, 2008
@Darkk:
Win2000 is a dead OS.
You should consider upgrading...
Darkk reviewed v6.3e on Jun 24, 2008
@ Rikrdo

W2k is still a supported Microsoft OS. I happen to dislike XP, though I own several copies, and absolutely won't be going to Vista, ever. I've mostly switched to Linux for day to day stuff.

GetRight is listed as being W2k compatible, and it isn't (now). This 6.3e upgrade breaks 2k, and it has done so on lots of machines I have tested with. Still no movement on bug resolution from the author.
acervatim reviewed v6.3d on Jun 8, 2008
Trial-ware 30 days limited! Why should I use Getright when there is Free Download Manager, Bitcomet, Flashget?
I find it simply astonishing how terrible the developer of GetRight is at finding and fixing bugs, and how stupid people are who like this piece of crap.
Bobbitchin reviewed v6.3c+02 on Feb 4, 2008
I have been using Getright since dial-up days. Simply the best. I also recommend using the Flash-Got plugin for Firefox along with Getright.
robmanic44 reviewed v6.3b+01 on Nov 8, 2007
It has had its problems of late, but I wouldn't have any other download manager on my system. When you are brain damaged, as I am, you need intuitive software on your system.
mackley reviewed v6.3b on Oct 29, 2007
October 26; 6.3b

* Fixed the crash when starting that some people were getting.
* Changed so it draws the download button text w/ Vista in "Classic" mode. (Not totally fixed, but did it so I could include it with the crash fix 6.3b.) Very weird since the decade old function to do the buttons stopped working with Vista!
* Included the newer OpenSSL files.