File Details

File Size
13.0 MB
License
Freeware
Operating System
Windows 2000/Vista/XP
Date Added
November 30, 2009
Total Downloads
29,598
Publisher
SIPphone
Homepage
Gizmo
Other Versions
Publisher's Description
Gizmo uses your Internet connection (broadband or dial-up) to make calls to other computers. With the click of a mouse, you're connected to friends, family, and colleagues anywhere on earth. It's just that simple. You talk clearly for as long as you want for free.
With inexpensive add-ons like Call In and Call Out, you can talk to any telephone, mobile or landline on the planet.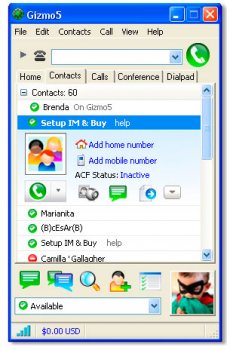 View Full-size
Latest Reviews
netean reviewed v4.0.5.392 on Sep 17, 2009
U used to like Gizmo, it was a decent alternative to Skype. Credit purchased thru gizmo lasts forever, wheras Skype's didn't (don't know if that's still the case?)

Call quality used to be excellent. But Skype's has improved no end of late.

Sadly the big let down is:
The interface: just terrible, confusing and irregular - somewhere in there are my IM contacts, but hard to tell where or what they are
As previously mentioned. The auto spamming of my IM clients telling them I'm using Gizmo (not good, not good at all - just don't do that!)

Also on the downside. I think Skype has upped it's game a lot of late, and I think, got a million times better than it was.

For the record Openwengo has changed it's name to Qutecom
http://www.qutecom.org/

but it's absolutely terrible at present. very very buggy.

If you want free voice /VOIP I'd stick with any of these:
Google Talk
WIndows Live Messenger
Skype

I really wouldn't bother witih gizmo anymore.

Sadly!
StreetGuru reviewed v4.0.5.389 on Jun 2, 2009
This was the worst on-line shopping experience I've ever had till date. I bought a $35 DID number with Gizmo5 through google checkout. There was a delay of almost 24h until the number finally show up on my gizmo account page and when it finally does, it doesn't work at all. There is no customer support number for gizmo5 or any direct email addresses - the only contact platform with the company is through an online form on the website. After contacted they tell me that they acquire this numbers from different vendors and were contacting the one in question to find out what the problem was. One day later i am told that the number was erroneously posted as available on the website but that they would offer me a replacement. I accepted their proposed number but after that I hear nothing else from them until 3 days later - in spite of my repeated attempts to contact the company - when they tell me that the replacement number is no longer available!!! They then offer me yet a different replacement number, this time from a completely different area code and far inferior to the one purchased initially - and on the condition of having to pay an additional 100% of what i had already originally paid. I have since been writhing to them demanding either an equivalent replacement number or a refund and have no answer at all. In the meanwhile the original number was taken out of my account page and no refund offered.
This people are a very bad joke, stay well back!!
Aegis69 reviewed v4.0.5.389 on Mar 10, 2009
Anyone tried this?

http://www.internetcalls.com/en/index.html

Other than that, I liked OpenWengo but it appears to be gone now.
pep086 reviewed v4.0.4.385 on Sep 2, 2008
full of advertisement, it is not friendly, in fact if u want to make a conference you have to follow some steps, and it stills doesn't work.
use the skype that's the best user friendly VOIP program, its a pity that you have to pay for the calls but its the best one
dgtlchlk reviewed v4.0.3.383 on Jul 29, 2008
Looked like a great alternative right up until the moment I started up version 4 and it logged into all my IM accounts it had saved from version 2. It then proceeded to message every single one of them with a message proclaiming that I was using Gizmo and they should give it a try.

It had much promise but for the blatant lack of choice it just has to go.
Tao2005 reviewed v4.0.3.382 on Jul 28, 2008
LOL, I agree with legion. How ever, if that where so, it would have to offer the gateways for free, instead of fee.
legion reviewed v4.0.3.382 on Jul 26, 2008
Skype killer :)
some guy reviewed v4.0.3.369 on May 22, 2008
nice clean non bloat great !
netean reviewed v4.0.2.360 on Apr 11, 2008
I use gizmo on two laptops and on my nokia mobile phone. It works and works well. If you buy call out, it stays on your account until you use it (unlike Skype where it "Expires"!!!)

The only downside is the interface, it's bloody awful.. the icons at the bottom are meaningless and it's impossible to easily see what network a contact is on: is it google talk, msn, skype, or gizmo...

Openwengo, looks much much nicer, pity I can't seem to dial anywhere with it!
jrtheinert reviewed v4.0.0.338 on Feb 28, 2008
This is not really a review, but provides some helpful info on other ratings. First, I am one of the developers for Gizmo Project, which has been rebranded as Gizmo5.

Version 4.0.0.338 is our first official release with video and IM gateways. Any reviews of 4.0 prior to 338 were done as beta releases. There have been significant improvements in stability since those betas. I invite all users of Gizmo Project/Gizmo5 beta to upgrade to version 338 and write a new review.

FYI, we are planning a maintenance release for next week which will fix a few more minor issues.