File Details

File Size
1.7 MB
License
Open Source
Operating System
Windows (All)
Date Added
August 9, 2017
Total Downloads
4,996
Publisher
Greenshot
Homepage
Greenshot
Publisher's Description
Greenshot is a light-weight screenshot software tool for Windows. Create complete or partial screenshots quickly. Easily annotate, highlight or obfuscate parts of the screenshot. Send the screenshot to a file, the clipboard, a printer or as e-mail attachment. Being easy to understand and configurable, Greenshot is an efficient tool for project managers, software developers, technical writers, testers and anyone else creating screenshots.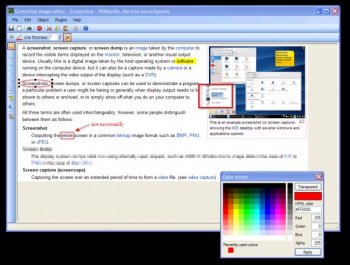 View Full-size
Latest Reviews
mikebray reviewed v1.1.7.17 on Mar 12, 2014
meh ok
barrytbutler reviewed v1.1.7.17 on Jan 29, 2014
great tool but i wish they would update it and improve it even further. a few little things that could be better.
smaragdus reviewed v1.1.6.2779 on Oct 30, 2013
-1 for .NET
-1 for log4net.dll
Joco reviewed v1.0.6.2228 on Nov 2, 2012
I went through several free and evaluation screenshot utilities. Greenshot is my final choice. Free & powerful. Lacks the scrolling screen capture but I fortunately I don't need to make scrolling windows screenshots often.
reddy.shyam reviewed v0.8.1.1486 on Jan 26, 2012
Found a new love with this app. Was using PicPick but it isnt 100% freeware. The only thing missing with Greenshot is capturing scrolling windows but that doesnot work either with PicPick on multitab browsers. So thats ok. This one is constantly updated. Kudos to author
lehenryjr reviewed v0.8.1.1486 on Jan 25, 2012
Effortlessly, this is my favorite screenshot application. I has a lot of options I really like, the mark UPS, the arrows and the obfuscate to blur out those private areas. great application; it replaced my other screenshot applications easy.

Thank you,
Larry Henry Jr.
LEHSYS
Diam0nd reviewed v0.8.1.1486 on Jan 25, 2012
The only thing it's missing is the ability to take screenshots of FULL web pages (eg. DuckLink does that for instance). Otherwise, it's pretty close to perfect.
netean reviewed v0.8.1.1372 RC5 on Nov 2, 2011
superb, small , light, VERY useful and functional, and the instant annotation and image editor is a god send. The ONLY feature I would like it to have is the ability to resize my screenshots - when I need to resize them I have to shell out to another app. but otherwise, this is THE best screenshot tool I've ever come across
SuzzyWoozy reviewed v0.8.1.1250 on Jul 6, 2011
Promising tool and glad to hear that is actively developed.
I am using the really old, discontinued, MWSnap mostly because it has the "Snap window or menu" feature that I use a lot; hopefully Greenshot will have it also in the near future.
Zoroaster reviewed v0.8.1.1181 on Jun 11, 2011
This is a go, go, go. I mean stay & keep. Not bloated, when we want a copy, not a factory. The application is now apparently a developer's priority, being regularly updated. A very nice piece of software.