File Details

File Size
3.2 MB
License
Open Source
Operating System
Windows 7/8/2000/Vista/XP
Date Added
December 19, 2015
Total Downloads
9,686
Publisher
eoinocal
Homepage
Halite
Other Versions
Publisher's Description
Halite is yet another open-source BitTorrent client and is based on the excellent libtorrent library from Rasterbar Software. What makes Halite stand out is its remote control interface allowing you to monitor and control the program from a mobile phone.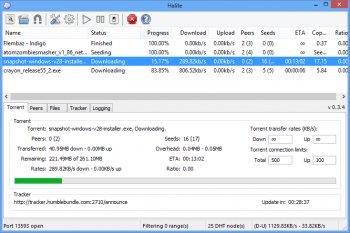 View Full-size
Latest Reviews
radiomaffia reviewed v0.3.2.2 on Feb 25, 2010
Edit:Halite is not an allowed client in private trackers :-(

READ PLS. (names are replaced by ... )

**********************************************************************************************

It's not an allowed client, so if you use it, you'd be taking all the risk should something bad happen.
...

-------- radiomaffia wrote: --------

Hello ...,
Because uTorrent from version 2.xx using the utp feature I am looking forward to another client and fell in love with Halite
http://www.binarynotions...alite-bittorrent-client
I can never find anything on private bittorrent forums if Halite is an allowed client or not and I dont wanna take any risk.
Please your kind answer.

Regards ...

**********************************************************************************************
Tokar reviewed v0.3.2.1 on Dec 24, 2009
One of the only 64bit torrent clients, and a good one at that. We need more 64bit software.
Dana1 reviewed v0.3.2.1 on Dec 3, 2009
Downloaded and installed this piece of software. The first time I ran it I successfully got a win32:Delf-MZG and a win32:ZBOT-MKK Virus on my system. Took two hours to clean out the system and re- download and install 27 programs. Not much to say for this piece of software.
animex360 reviewed v0.3.2.1 on Dec 2, 2009
the x86-x64 versions run faster & stable ram usage has been optimized :D run well on windows 7 -64 & 32
wodez reviewed v0.3.2 RC2 on Oct 9, 2009
"It uses less RAM than uTorrent."

How much RAM do you have when this matters? 16MB?
neodemio reviewed v0.3.1.1 on Apr 3, 2009
It is fast and quite stable. It uses less RAM than uTorrent. I find it really good.
radiomaffia reviewed v0.3.1.1 on Oct 10, 2008
Can it create torrents now? Edit : YES!FINALLY! Does it stays stable on the torrents after you shut down the pc and start up again startup Halite? A major problem in the early beginning and that is why I still did switch over.And...in uTorrent you can see by the red colour that there is no connection to the tracker and that is a must have for my since i'm into private trackers and ratio is everything! I stay looking to this prog cause it is having potential but who can give an anwser to me?
anonymous_user reviewed v0.3.1.1 on Oct 10, 2008
About time there was a new version. Even its only minor fixes :P
BenHoium reviewed v0.3.1 on Jul 23, 2008
Simply amazing compared to Vuze what I was using this uses no memory at all compared to Vuze I now have my favorite bit torrent client
radiomaffia reviewed v0.3.1 on Jun 17, 2008
all the problems (not connectable to the privatetracker) with utorrent i had were only cause i changed the connections from 50 to 200.
cause this program is not create torrents i see no other option then to stay with utorrent