File Details

File Size
2.5 MB
License
Freeware
Operating System
Windows 2000/Server 2003/Vista/XP
Date Added
June 1, 2010
Total Downloads
134,542
Publisher
IE7pro.com
Homepage
IE7pro
Publisher's Description
IE7Pro is a must have add-on for Internet Explorer, which includes a lot of features and tweaks to make your IE friendlier, more useful, secure and customizable. It includes Tabbed Browsing Management, Spell Check, Inline Search, Super Drag Drop, Crash Recovery, Proxy Switcher, Mouse Gesture, Tab History Browser, Web Accelerator, User Agent Switcher, Webpage Capturer, AD Blocker, Flash Block, Greasemonkey like User Scripts platform, User Plug-ins and many more power packed features. You can customize not just Internet Explorer, but even your favorite website according to your need and taste using IE7Pro.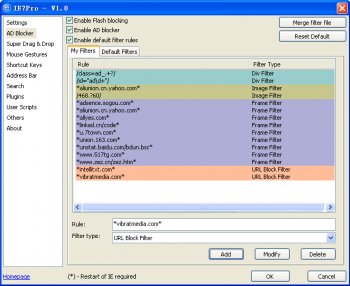 View Full-size
Latest Reviews
tomkelly reviewed v2.5.0 on Aug 22, 2013
ie7pro is still a solid program
mmmmpower reviewed v2.5.0 on Feb 25, 2011
ZERO stars

now bundles MALWARE:

INFESTED WITH OPENCANDY

OPENCANDY IS EVIL

by extension IE7pro is EVIL

sad that a decent adblocking tool for IE is malware

MALWARE
MALWARE
MALWARE
MALWARE
MALWARE
MALWARE
MALWARE
gsteele reviewed v2.5.0 on Jun 2, 2010
It looks like they have been taken over by a Chinese gang and are now using it to distribute malware.
darthbeads reviewed v2.5.0 on Jun 2, 2010
What the hell happened to this app?
jetz reviewed v2.5.0 on Jun 1, 2010
Not a trustworthy app any more! Avoid at all costs! They are hiding something!
Ryusennin reviewed v2.4.9 on Apr 27, 2010
Looks like the whole IE7Pro site has been taken over by trojan posters.

Do NOT trust versions after 2.4.7. Those are fakes!
mmatheny reviewed v2.4.8 on Mar 23, 2010
Their on-line service is still down, and that's one of the main reasons I used this program. NEVER had an issue with multiple duplicates, like I have with other favorites sync programs.
Lastwebpage reviewed v2.4.8 on Mar 23, 2010
Don't trust this new version!
"Add GrabPro - The Professional Tool to Download Social Media"
Yes Media... maybe you get a good Video Converter... Look in the IE7pro forum if you don't know what I mean.
Ryusennin reviewed v2.4.8 on Mar 22, 2010
Beware, 2.4.8 might be a fake/trojan. The official forum has been dead for months, except for the huge amount of unblocked spam topics.
jay46 reviewed v2.4.7 on Sep 16, 2009
Regarding support for IE8. Yes, it does, since v2.2b2.

Recommendation: RTFM or at least the FAQ linked to from the homepage.