File Details

File Size
4.2 MB
License
Open Source
Operating System
Linux, Windows (All)
Date Added
June 3, 2023
Total Downloads
17,979
Publisher
Dominik Reichl
Homepage
KeePass Password Safe
Other Versions
Publisher's Description
KeePass Password Safe is a free/open-source password safe or manager which helps you to manage your passwords in a secure way. You can put all your passwords in one database, which is locked with one master key or a key-disk. So you only have to remember one single master password or insert the key-disk to unlock the whole database. The databases are encrypted using the best and most secure encryption algorithms currently known (AES and Twofish).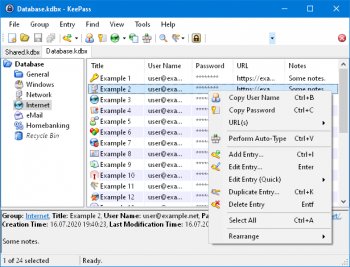 View Full-size
Latest Reviews
roymccoy reviewed v2.32 on Mar 10, 2016
I have stored all my account details for every site I've ever signed up on, 270 in total, and couldn't live without KeePass to help me keep track all usernames and passes. It's a joy to log in to a site and have it to auto-type required info simply by using a hotkey.
User friendly and light-weight. It has a clever password generator tool, etc..
Bust most importantly it's SAFE, everything is locked with a master password.
You can export the entire database to make backups, or if you want to use on other devices.
GadgetPig reviewed v2.23 on Jul 23, 2013
My favorite and primary password manager. A quick way to migrate between keepass versions [and maintain customizations] is to copy over these 3 files into the new keepass directory:

Database.kdbx
KeePass.exe.config
KeePass.config.xml

If you also use the keeform plugin, also copy these 3 files over:

KeeForm.exe
KeeRun.exe
KeeFormFF.exe
DatabaseBen reviewed v2.21 on Feb 4, 2013
i've been using keepass for years. so to this end, i can't really complain about anything with the program, other than importing is tedious.
some guy reviewed v2.20.1 on Oct 7, 2012
wholemkt9 go fu*** your self!
-Lord- reviewed v2.19 on May 2, 2012
ron_marz: that's a stupid reason to rate the software low. There is also a portable version that doesn't require .Net, runs fomr USB key, etc... you are, therefore, stupid. Moving on.

Having used this for a number of years now:
It's fast, extremely effective, as stated can be portable, and flexible. Strong, solid 5 for this one.
ron_marz reviewed v2.14 on Jan 3, 2011
Requires .Net Framework.
shallot reviewed v2.11 on Jul 7, 2010
Using this for ever now...I am now using it on 3 phones and 4 pcs...all synchronized using live sync and keepass...no plugins required...just awesome...

@anomoly...enlighten me...have you even tried Keepass....UPM is like a "hello world" written by a high school kid....hmmm...are you a HS kid btw ?
hunterb reviewed v2.11 on Jul 6, 2010
Simply the best password manager. Maybe too many features for most people. Does everything i can think of and i can run a version of it on Android.

Anomoly> UPM is a lightwieght - no feature manager. It doesn't compare with this. There are KeePass ports to every OS and phone you can think of.
anomoly reviewed v2.11 on Jul 6, 2010
http://upm.sourceforge.net
Android, Windows, Mac OS X and Linux
java
stisev reviewed v2.1.0 on May 19, 2010
The greatest password protecting program ever written.