File Details

File Size
9.3 MB
License
Freeware
Operating System
Windows 7/8/Vista/XP
Date Added
December 8, 2020
Total Downloads
35,342
Publisher
ObviousIdea
Homepage
Light Image Resizer
Publisher's Description
Light Image Resizer is a free image resizer to resize, convert images in batch with bulk editing. Directly integrated into the shell context , right click and create copies or work on original HQ pictures, then share photos online.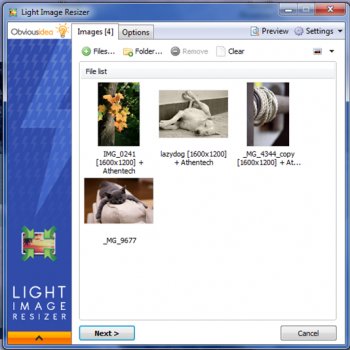 View Full-size
Latest Reviews
anonswgeek reviewed v5.0.8.0 on Jul 12, 2017
works perfect for my particular needs and works from command line. not too expensive to buy if you use the program regular and want to remove the nag screen..The developer is responsive and been very helpful in fixng any issues. A previous poster mentioned the interface being old style? its been updated recently this year.
BANDIT- reviewed v4.5.1.0 on Sep 25, 2013
# Testing Only #

-Nags for you to buy the pro version & "Will do" at every launch.
-Another "BUY" nag at Close proggy.
-Full of flags and languages (pack).
-Not lossless. Quality is by number of pixels at Save.
-KidsWare.. Easy-PeasyWare.. lolWare.. NotForOver12yrsOldWare.. 1*
zionxx reviewed v4.1.1.5 on Jan 26, 2012
not bad but honestly guys there's plenty of free image resizer out there,
and i mean are free, for example, and the name could not be better, try free www.freeimageresizer.net at free image resizer that's a 5 stars for real and is free
johnusa reviewed v4.0.6.1 on May 21, 2011
You do not need this nagware.
Here is what you need, a free and easy to use utility, Image Resizer for Windows v2.1, get it from here and enjoy:
http://imageresizer.code...com/releases/view/30247
HeilNizar reviewed v4.0.6.1 on May 19, 2011
Who needs this crap when there is the mighty ImageMagick and irfanview?!
betasun reviewed v4.0.4.15 on Apr 8, 2011
The clone of Power Toy also works fine in windows XP .
Banquo reviewed v4.0.4.11 on Apr 1, 2011
Nagware, no thanks. The Microsoft image resizer powertoy works very well on XP systems, and someone has written a clone of it for Vista and 7.
therube reviewed v4.0.2.5 on Nov 16, 2010
(I did not review this software.)

I'm not clear whether this is "Freeware" or Pay?
Seemingly, Nagware at the least.
Perhaps it is Free if you want to put up with the nags? Or is Free in that manner for Personal use, but requires pay for Commercial? Not sure.

Found this old discussion, http://forums.vso-softwa...sizer-2-0-t4132-20.html.
some guy reviewed v4.0.0.54 on Aug 13, 2010
will have to agree with GadgetPig
emanresU deriseD reviewed v3.0.1.2 on Nov 30, 2009
What a joke. You are nagged with a surprise web page that opens up when installation completes (advertising VSO's stupid toolbar), you are nagged each and every time you start this crapplication (with a dialog nag), and you're even nagged when you uninstall the bloody thing (with an "Uninstall Survey")! And if you submit the survey (for example, to vent your frustration over having your time wasted on all this nonsense), you are delivered to yet another nag--this time for their "Software Partners"!

As for the crapplication itself, the interface is a joke. I was expecting something similar to what I'm used to with the program I normally use (RIOT, http://luci.criosweb.ro/riot ), yet what I was presented was a ridiculous interface.

Consider this review a digital punch in the face to VSO.