File Details

File Size
2,734.4 MB
License
Open Source
Operating System
Linux
Date Added
June 22, 2023
Total Downloads
4,886
Publisher
Linux Mint
Homepage
Linux Mint
Publisher's Description
Linux Mint is a variant of Ubuntu with integrated media codecs. Complete with a custom desktop and menus, several unique configuration tools, a web-based package installation interface, and a number of different editions. Perhaps most importantly, this is one project where the developers and users are in constant interaction, resulting in dramatic, user-driven improvements with every new release.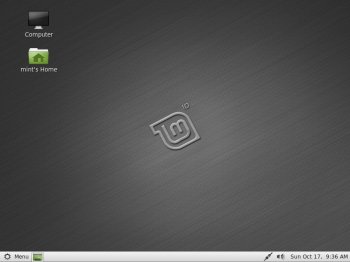 View Full-size
Latest Reviews
dgeorge reviewed vv21 on Aug 17, 2022
listed above
dgeorge reviewed v20.2 Final on Jul 13, 2021
Linux Mint is an excellent OS. I have been using it since inception. The graphics are great, the OS is great and you can icon to the task bar any web page and it opens instantly. Also not like Microsoft, the updates are fast and less then 3 minutes. What more do you want from an OS. Security is optimal also.
Aegis69 reviewed v19.3 Final on Dec 18, 2019
Still no upgrade channel, so EVERY TIME they update it you have to reinstall. Debian is now the only reliable distro if you want a persistamt install. Arch is crap since it has an installer from 1979, ubuntu is too unreliable and cant make up its mind about anything. Hell at this point I might say linux desktop is dead on arrival.
dejavu reviewed v19.1 Beta on Dec 7, 2018
Excellent alternative for Windows. Today my OS!
Aegis69 reviewed v19 Final on Jul 3, 2018
Too many flavors of ubuntu out there that bring nothing to the table, and here is another one.

Best DE going now is Deepin, and you can install Deepin desktop on ubuntu now using a PPA. Its the best way to go.

Dont waste your time on Mint as it uses the clunky and redundant Cinnamon desktop which feels like Windows98, and still has no upgrade path far as I know meaning you have to reinstall the entire OS every time they make an update.
methuselah reviewed v19 Beta on Jun 5, 2018
Seems like a nice advance over 18.3. The beta is still a bit slower, as in most betas...look forward to the final. It's my favorite distro.
Uriel reviewed v18.1 on Dec 18, 2016
I just upgraded from Mint 18 Cinnamon to Mint 18.1 this morning using the update manager. The upgrade went very smooth.

I love Linux Mint. It doesn't use the resources that Window 10 does and it's has pretty much everything I need. The system is getting to be very user friendly with each upgrade and I use it just as much as I do Windows 10.

I also would like to give Terabyte a little plug as it will make a system backup of Linux Mint for you without any hassle. I have the option to use "Image For Linux" ISO or the "Image for DOS" one. I prefer to use Image for DOS. Also I can mount a Linux Mint backup from Windows to extract files if needed. (But you need "Image For Windows" to extract files from Linux) http://www.terabyteunlim...m/image-for-windows.htm
Aegis69 reviewed v18.1 on Dec 16, 2016
Meh, ubuntu is dead now they have taken too many insane turns, and all distros based on it will have to dump it at some point.

If you want to see the future try Deepin linux, custom DE based on Debian.
some guy reviewed v17.2 on Jun 30, 2015
fantastic !
FatBastard reviewed v17.2 on Jun 30, 2015
It's getting better...