File Details

File Size
1.4 MB
License
Freeware
Operating System
Windows 2000/Server 2003/Server 2008/Vista/XP
Date Added
November 23, 2009
Total Downloads
7,082
Publisher
Metalink
Homepage
Loudtalks
Publisher's Description
Loudtalks brings voice back to the Internet communications. It's a little application, which allows you to talk to your friends or colleagues instantly with a single touch of a button. Think walkie talkie. It's faster than text chat and more convenient than calls. It supports one to one and one to many communication. Incoming messages could be re-played. The application is fast and lightweight and doesn't require any configuration.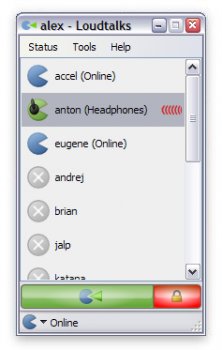 View Full-size
Latest Reviews
some guy reviewed v0.9.0.63 on Dec 4, 2009
great program made me dust off that microphone
radiomaffia reviewed v0.9.0.34 on Jan 29, 2008
Does what it says, light cpu and nice design.
Like the option that you can ad a sound if somebody starts to speak to you the first time and the echofunction and shortcut speakbutton is very handy!

Missing a fews things...
*I had to put a shortcut myself in my startupfolder for starting up with windows
*You have to watch just above the systray if you can speak and not talking the same time otherwise you both missed the boat and none of you heard something.

Like to see an option that you can talk to all your acounts at once, now you have to select an account and some skins added would be great

Like to test it with my? You know my name allready I guess...
manogamez reviewed v0.9.0.34 on Jan 24, 2008
Initially when I downloaded Loudtalks, it crashed in Vista upon use. I issued a bug report (through the program) and the creator fixed it within 24 hours! It now works PERFECTLY and my parents love to use it.
echohead reviewed v0.9.0.33 on Dec 14, 2007
great. does exactly what it advertises, does it well, and uses minimal resources to do it.

P.S. the open-source IM client, Pidgin, is supposed to add Skype support sometime in the future. i think it would be great to have loudtalks support instead.
tazandpig reviewed v0.9.0.32 on Dec 3, 2007
Now this is neat! Push to talk for the PC.

I downloaded this earlier today, then convinced another coupe of friends to do so too.

First impression? Very pleased.

Not only is it a ridiculously small, but it works. And works well.

The audio quality is pretty good and I particularly liked the 'channel' function - whereby groups of people can be lumped in together for simultaneous broadcast. Thats a simple, but very effective feature.

I just hope it manages to avoid becoming bloatware as the most impressive thing for me overall was the small file size.

Why can't everything be as simple as this?

Well worth a 5/5.
loudtalks reviewed v0.9.0.30 on Oct 30, 2007
Hi guys, I'm one of those, working on this product. Hope you don't mind I rated it 5 :) I do use it all the time and like it a lot (even though our tasks list stretches right to the moon -- no worries, we'll keep it simple and light no matter what).

As another user mentioned the latest version has an issue with contacts statuses being unstable. The fix is on its way, so don't lose faith!

Thanks for your support! We do plan a Linux and Mac OS X versions but ETA is uncertain yet.
arjesus reviewed v0.9.0.30 on Oct 27, 2007
For the other reviews looks very promissing, BUT, i didnt have the same luck. i sent to two friends of mine to test this prob, it worked well on the first 5 min then all my contacts (and their) went offline, and i has been two days now...what makes this prog a little un-usable.
Richardky reviewed v0.9.0.30 on Oct 27, 2007
good work its nice looking and works as mentioned but i have to agree with Adrian79's post ... convincing friends to download yet another messenger is not going to happen anytime soon ...

if there was a linux version of this it would gain alot more popularity and users :)
Adrian79 reviewed v0.9.0.30 on Oct 27, 2007
looks nice... but convicing my friends to download/install something other than what they most likey already have (yahoo,aim,msn,etc.) will be tough.
yokozuna reviewed v0.9.0.30 on Oct 27, 2007
Impressive communicator! I do hope the author will keep it slim and do not allow it bloat as well as create Mac and Linux versions.