File Details

File Size
22.2 MB
License
Freeware
Operating System
Windows 7/8/10/Vista/XP
Date Added
June 2, 2020
Total Downloads
20,702
Publisher
MailWasher
Homepage
MailWasher
Publisher's Description
MailWasher is an easy way to check and manage your emails before you download them. It is a powerful email checker with effective spam elimination. Discover the safe way to stop unwanted viruses and emails before they get to your computer. It is so easy to set up and use that you'll be managing your email like a pro in seconds. It can even be used as an effective privacy tool.
The Free version is limited to one email address.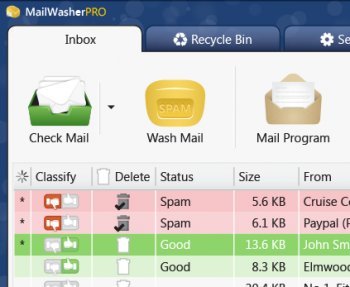 View Full-size
Latest Reviews
BANDIT- reviewed v7.4.0 on Nov 24, 2014
Used since it first appeared on PC mag Disks (90's)
If you Understand Headers, This App allows to make
Your Own Rules.... Excellent 5*
BANDIT- reviewed v7.4.0 on Nov 24, 2014
Used since it first appeared on PC mag Disks (90's)
If you Understand Headers, This App allows to make
Your Own Rules.... Excellent 5*
kstev99 reviewed v7.4.0 on Nov 20, 2014
Changes in 7.4.0:
Recycle Bin can now optionally display all logged emails, not just deleted.
Sync support for MailWasher Mobile 2.0 (to be released soon)
Added more information into Email Info screen
Improved Contact Importer
Improved Account Importer
Improved Sync for MailWasher Mobile
Fix for MW not downloading enough data on message preview
Improved Account Setup steps for account creation
Updated Language files
Updated DNSBL files
Updated Account Server files
Misc small tweaks and fixes
humbleuser reviewed v7.4.0 on Nov 20, 2014
There are some really dumb comments here from people who clearly don't know what the program does. I've used it for years and it's very good at doing what it says on the box... Just read the box first.
LurkerLito reviewed v2012 1.20 on Jun 21, 2012
It is a good program. I loved it when I was using it, but to me it is SERIOUSLY flawed. You buy it and it expires. Every year you have to pay them to continue using it. So it is not buy to own but a yearly subscription. I used my own filters and not their "online databases" but still I cannot use the program I purchased. I was a loyal user since v6, but I won't support programs that expire. At the time I bought the 20xx versions they didn't mention this little nugget of info. When I complained about the extortion, they offered me another year but I didn't accept it. You can stop supporting a program, you can make it so you can't get updates, but if you make it stop working even though it was installed and working, your program is garbage.

So just be warned. It is NOT shareware or anything of the type as listed on this page. It is a trial software that is subscribed to with a yearly fee attached. It's not even as nice as the antivirus software, most of those expire but you can keep using them but not updating the definitions, this program won't even load once expired. I guess they didn't like the fact that you could write your own filters and not use their "online databases" and still have the program work quite effectively, so to keep leaching money out of you they just expired the program so you can't use it. I highly recommend you do NOT buy software that works this way.
grimbles reviewed v6.5.4 on Jun 1, 2010
Negative posters here are not terribly bright:
1) Not everyone likes and uses webmail.
2) MailWasher allows the user to deal with (delete) spam and unwanted email at the server, so it is never downloaded to the computer.

MailWasher is a terrific spam/email manager. Quickly and easily preview emails held on the server with one click. Mark any unwanted emails for deletion then one click to view the remainder through your email client.

Spam never gets near your machine....too easy!!
Aegis69 reviewed v6.5.2 on Sep 15, 2009
Um, ok. So this program get all my mail first, lets me look at all the spam and all the messages, delete them if I choose. THEN I have to open my email program and get the messages again?

This is a strange way of dealing with email, seems like it would be a much slower process.

I would just switch my email client to Thunderbird, train the spam filter by showing it spam and non-spam messages, (no one trains their filter which is why most of them fail) and that would take care of it in a single program.
cltx99 reviewed v6.5.2 on Sep 15, 2009
I get gobs of spam with my Gmail account and Gmail picks them up, where as Mail washer couldn't recognize a single spam email. Not impressed at all.
jafo818 reviewed v6.5.2 on Sep 14, 2009
MailWasher is an excellent program. I've been using it for a very long time.

Pfurri, you gave the free version of the app a rating of 1 because it doesn't support multiple accounts? How lame is that? The Pro version supports multiple accounts.
Pfurri reviewed v6.5 on May 19, 2009
Forget it, just 1 account possible !!!