Other Versions
Publisher's Description
Microsoft Security Essentials provides real-time protection for your home PC that guards against viruses, spyware, and other malicious software. It is a free download from Microsoft that is simple to install, easy to use, and always kept up to date so you can be assured your PC is protected by the latest technology. It's easy to tell if your PC is secure — when you're green, you're good. It's that simple.
Microsoft Security Essentials runs quietly and efficiently in the background so that you are free to use your Windows-based PC the way you want—without interruptions or long computer wait times.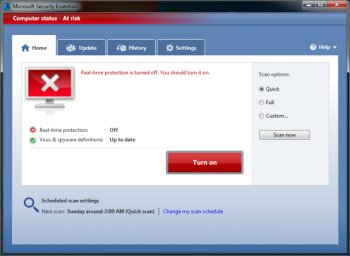 View Full-size
Latest Reviews
tim_tester reviewed v4.10.209.0 on Dec 1, 2016
horrible detection rate ! horrible on disinfection/removal of a infected computer, Hey Microsoft we don't need another antivirus program ! why don't you guys work on your horrid windows updating service !
some guy reviewed v4.10.209.0 on Dec 1, 2016
crapware !
carlo_tor reviewed v4.8.0203.0 Pre-Release on Apr 16, 2015
MSE is a very good antivirus; I used it on my old notebook with Windows XP and now I use it on my new notebook with Windows 7. It is light and effective, and consider that I visit all sorts of sites and download and test all sorts of software. MSE never failed to warn me of potential/real viruses and malwares.
I just added a (free) tool that makes bi-directional the native firewall that is included in Windows. Regards.
Aegis69 reviewed v4.8.0203.0 Pre-Release on Apr 15, 2015
All the machines I have to clean at work have this on it, its basically doing nothing.. its useless just like all microsoft products.
Blaxima reviewed v4.6.305.0 on Nov 17, 2014
Poor detection and removal. Slows your computer down far too much as it scans every program you open
nilst2006 reviewed v4.6.0302.0 Pre-Release on Aug 23, 2014
Poor detection of malware/viruses/trojans !
Music4Ever reviewed v4.4.207.0 Pre-Release on Sep 10, 2013
MS came 17th out of 18 AV's on 'AV Comparative' (March - June 2013) tests - Enough said really
Vivek Kowshik reviewed v4.2.223.0 on Feb 21, 2013
MSE today lags behind almost every other AV in virus detection, as mentioned by some of the guys here. It also requires manual updation, as the automatic update never works. Microsoft claims that the AV tests are not realistic, as the tests use sample viruses, which have infected only a very small fraction of the total number of PCs running Windows. So it is their word against yours. Apparently MS is on a self destructive path, as you can see from the quality of their AV product and the terms they are imposing on potential users of MS office today.

My personal suggestion is to use AVG or Avast if you need free protection, and have a fast enough PC/laptop with Core i3 or better. I still use MSE as my primary AV, as I find substantial slowing down of my old laptop with either of the other AVs. I also have Comodo firewall installed, with Defence+ turned ON. This gives me additional protection of sand-boxing, as well as a secondary AV (Comodo AV detection is built in), and there has been no infection in the last 4 years that I am using my Pentium based laptop with Win7. In addition I run Malwarebytes scan every week to double check on these two. Three stars only because it does not leave my laptop panting for breath.
OldGeek reviewed v4.2.223.0 on Feb 20, 2013
I wasn't sure whether to use this or not so I gave it a test drive on one of my laptops and I must say I was very impressed. I experienced 0 slow downs on the laptop. I can only assume it does what it's supposed to do because I don't usually get infections on my PC's. So far so good, it seems to be very seamless.
Music4Ever reviewed v4.1.0522.0 on Sep 27, 2012
@niknetpc - At no stretch of the imagination could MSE said to be 'still the best' as until recently it's detection rates were abysmal.

MSE is better than it was but, (though it had lots of room to improve)
slows a (this) PC down & still lags regarding detection compared to the (free) competition.

Personally I wouldn't use MSE as my primary AV solution as I don't think it's good enough, though it seems others disagree ~