Publisher's Description
Mozilla Thunderbird Portable Edition is the popular Mozilla Thunderbird email client bundled with a PortableApps.com launcher as a portable app, so you can take your email, address book and account settings with you. You can also add in GPG and Enigmail to encrypt and sign your email.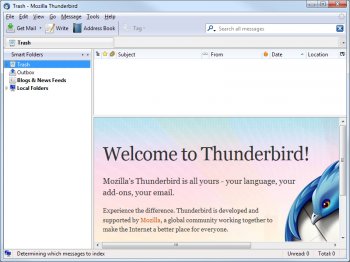 View Full-size
Latest Reviews
Blaxima reviewed v24.3.0 on Mar 11, 2014
Like Portable Firefox, it's not really portable as it leaves folders and temp files on the host computer.

I used to use the built in mail client in Opera and thought it was great but since Opera took a dump I tried many to replace it. I used Thunderbird for over a year but it's a little bit on the heavy side for what it is and many of the good plugins are outdated and no longer compatible. Postbox, which is built off of this, has made greater strides in improving and I much prefer the layout but it isn't free.

I had used the SimpleMail plugin for Firefox as I do prefer my mail client to be part of my browser but it is way too buggy and it corrupted quite a few of my stored emails.

Fortunately there is still one last piece of good Opera around and that is Opera mail. Unfortunately it hasn't been updated since they ripped it out of the now deceased (Presto)browser. For me it's still a better mail client when compared to this because of it's nicer layout and TRUE portability
mikebratley reviewed v24.3.0 on Mar 11, 2014
4 stars
cricri_pingouin reviewed v7.0.1 on Oct 3, 2011
I've been using this for years now, and it's been pulling from my yahoo/gmail/hotmail without an hitch. So 5 from me.
roj reviewed v3.1.10 on May 11, 2011
I switched to this from Outlook Express a while back because I liked the portability between Windows installs and even other platforms.

I've never looked back.

FIVE stars.
lehenryjr reviewed v3.1.5 on Oct 24, 2010
In a world where everyone and everything is going 'web', Thunderbird is a mainstay application. It's flexibility, portability and extensibility are the things that keep it as a must have application. Thunderbird greatest asset is the extensions. SocialMail is my favorite extension for Thunderbird; it gives it the Microsoft Outlook/Xobni look/function that everyone is looking for... Thunderbird should be in everyone's programs listing.

Until next time,
Larry Henry Jr.
LEHSYS.com
mytake4this reviewed v3.1.2 on Aug 7, 2010
T-Bird just keeps improving, as does Lightning Calendar. They now make a wonderful pair.
beelzebub360 reviewed v3.0.4 on Mar 31, 2010
Handy if you want to keep all your e-mail in the one spot.
Ultra fast!
Pure gold
DACWILSOL reviewed v3.0.2 on Feb 25, 2010
Pure gold. Still have to use MS Outlook to sync with my BB, need a plug-in for TB to work with BB. Then I will completely switch e-mail clients.
boaz reviewed v2.0.0.18 on Nov 23, 2008
I like the portable edition, I can just keep it on my USB stick when I need it.

What a great review "Otaku92"?
mytake4this reviewed v2.0.0.16 on Jul 26, 2008
Very good email client. I use it for Gmail POP as well as for my ISP POP account. Uses a lot more RAM than say Windows Live Mail, but what the heck. Everything is saved in one folder and can be moved with ease into another computer or hard drive, should my current one fail me. I like the portables and have basically made the move to use as many as portables as possible. So many great free portable apps. now, it is amazing.
The Lightning Calendar for Thunderbird simply stopped working one day. I gave up on that one, though Sunbird Calendar seems to work fine. Seems like Sunbird is really RAM hungry however.