File Details

File Size
0.5 MB
License
Shareware, $19.95
Operating System
Windows 7/Server 2003/Server 2008/Vista/XP
Date Added
June 2, 2014
Total Downloads
19,909
Publisher
Bassic Technologies
Homepage
Online Radio Tuner
Publisher's Description
Online Radio Tuner is a user friendly program that allows you to listen and record radio streams from the Internet. It includes support for .PLS/.M3U/.ASX playlists and MP3/WMA/OGG/AAC+ formats.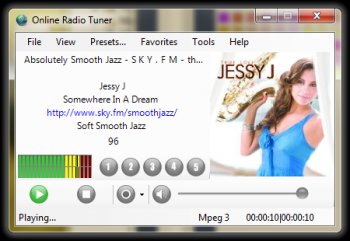 View Full-size
Latest Reviews
gsteele reviewed v2.5.4467.561 on Mar 26, 2012
Radiosure does a better job and it's FREE.
Uriel reviewed v2.5.4420.42021 on Feb 8, 2012
It looked promising until the main web page mentioned FaceBook, Twitter, and EverNote. This is just another app that wants to cash in on your privacy. Thanks but I'll stick with Rarma Radio.
mike59 reviewed v2.5.4419.21523 on Feb 7, 2012
I'm a FanBoY!

Not of this s*** though!
jetz reviewed v2.5.4419.21523 on Feb 7, 2012
Where did all the fanboyz go?
niknetpc reviewed v2.5.4393.40355 on Jan 12, 2012
Tapin is much better and free.No need to install framework.
Betanoob reviewed v2.5.4381.42066 on Jan 5, 2012
They are gonna lower the price to 9.99 They can't give this sh1t away!
Betanoob reviewed v2.5.4338.36102 on Nov 18, 2011
I gotz my reundz.
jetz reviewed v2.5.4320.37371 on Oct 31, 2011
Haha, they lowered the price form $40 to $20.
All you n00bz that got scammed and paid $40(ROFL!) email the author and get a $20 refund!
Hurry! Offer ends soon :D
jetz reviewed v2.5.4201.36449 on Jul 18, 2011
RadioSure, which is way better than this turd, now has a paid version.
And since it is only $9.99, I purchased it.
Get a clue about business...
jetz reviewed v2.5.4040.35192 on Feb 7, 2011
Save yourself $40 (LOL!) and get RadioSure.