File Details

File Size
2.7 MB
License
Shareware
Operating System
Windows (All)
Date Added
July 26, 2020
Total Downloads
5,989
Publisher
Codium Labs LLC
Homepage
OrangeCD Suite
Publisher's Description
OrangeCD Catalog is the comprehensive music database program for cataloging your music in any format. It handles physical media (such as CD, DVD, vinyl records, or tapes) as well as electronic media (such as MP3, Windows Media, iTunes or FLAC songs). It handles classical music collections as easily and conveniently as pop music. To add a new CD to the database, you just need to insert the CD in your computer, and OrangeCD will download all information from Internet. You don't have to type a single word. Filling your music CD database becomes quick and easy. Now you can find out if you own a specific album or song, print CD changer index sheet, put your album reviews on the web or calculate your total collection value.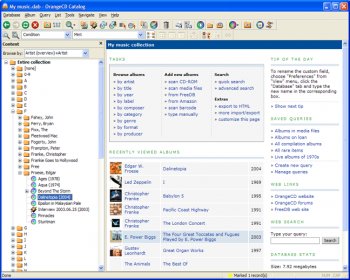 View Full-size
Latest Reviews
Dana1 reviewed v6.3.2.13701 on May 2, 2009
I cannot see why anyone would want to pay for a program to keep track of their music when there is free software out there that far supersedes it. The program I am talking about is Songbird. It is free and open source. It is fully expandable with tagging features as well as the ability to retrieve lyrics and album art. My way is Sonbird.
periklo reviewed v6.2.0.12028 on Jan 29, 2008
This program keeps everything in its own separate database, completely avoiding ID3 tags. In my opinion that is a bit ridiculous.

Otherwise, very nice.
PaulieFresh reviewed v6.1.8.11817 on Oct 20, 2007
As I was a little hesitant to try this out, I saw the features and just couldn't let this opportunity pass. I also noticed that it was shareware which turned me off hardcore. So I decided to torrent it and found myself a copy. It's not the brand new one but I got the jist of it was able to go crazy on it with my music collection. So far, there haven't been any crashes, hangs, slow downs, lagging, bogging of my computer, or any other negative outcome. I was quite surprised by that. I'm also so impressed by this program that I'm going to actually buy a copy for myself, or maybe more than 1 for my family.

I never write reviews, I usually just hit the ignore button if it sucks, but this program deserves a review from me. Not to mention that the developer without a doubt deserves my business.

Which reminds me, if the developer ever sees this, try adding support for DVD's and DVD .ISO images. I have at least 2 Terabytes worth I need to Catalog and I'd like to be able to click to play from the catalog also.

I give it A Ba-jillion and 1 stars. (Rounded down to 5)
d-claws reviewed v6.1.4.11304 on May 7, 2007
Today's best music cataloger.
Diam0nd reviewed v6.1.0 on Feb 28, 2007
very nice!
Gerhard reviewed v6.0.9 on Feb 4, 2007
Excellent Cd cataloger. (Period)

Fully deserves it's price, I only wish this or a similar program to catalog (movie) DVD's
fraksion reviewed v5.2.1.8016 Beta 2 on May 20, 2005
+ Functional
+ Minimalist
+ Streamlined
+ No bloat

None comes close to this for effectively managing one's collection.
Stoerpser reviewed v5.2.1.7726 Beta on May 28, 2004
The DownloadLink is death!
Try this:
http://www.firetongue.com/beta/orgcdfull_beta1.exe
Stoerpser reviewed v5.2.0.7523 on Mar 24, 2004
Very flexible, very stable!
If you have not only MP3's on your HD than also Informations, coverscans, this is your choice and the price is OK!
TheLoneIguana reviewed v5.2.0.7401 Beta 2 on Feb 2, 2004
Usually I always look for the freeware alternative for whatever software I use. This is one shareware program worth the price. Very flexible and powerful. There are a ton of features.