File Details

File Size
3.5 MB
License
Freeware
Operating System
Windows (All)
Date Added
December 20, 2020
Total Downloads
23,714
Publisher
Michael Scrivo
Homepage
Outlook on the Desktop
Publisher's Description
Put the Microsoft Outlook calendar right on your desktop so that it's visible and usable all the time without actually having to open Outlook.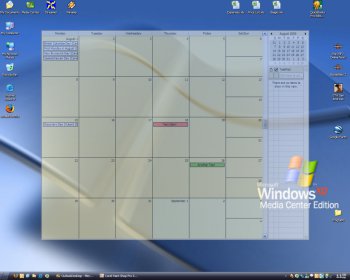 View Full-size
Latest Reviews
humbleuser reviewed v3.2.6 on Sep 23, 2015
My anti virus reported a trojan in this????
Aegis69 reviewed v3.2.3 on Jul 27, 2015
gawd that looks awful, the sooner you all abandon microsh!t the sooner we can live in a more interoperable world
agronkosova reviewed v1.5.2 on Jul 26, 2009
Awsome aplication very easy to use and very handy. Strongly recommand for all outlook fans. Even if you don't use outlook you still could use this aplication. Has great featuries...
eosrob reviewed v1.5.2 on Jun 17, 2009
Please note this requires .NET 3.5 so windows 2000 users are a bit stuck. workaround here.

http://rainstorms.me.uk/...work-35-in-windows-2000/
Diam0nd reviewed v1.5.0 on Dec 14, 2008
One of the best Outlook add-ins around! This one is REALLY helpful!!!

My wallpaper now is my Outlook calendar!!! :D
driver8 reviewed v1.5.0 on Dec 12, 2008
I've been using this for about a year - very useful. Works fine on XP/sp3.

A few more shortcuts would be useful, eg: to switch views.

Very handy to display calendar on desktop, you can also add calender entries directly.
raccoonist reviewed v1.5.0 on Dec 11, 2008
Great Idea and I really want to use this app...

ended up being a flaming pile of dog poo on my computer. Vista 64bit w/ Office 2003. many many error messages on everything i tried to do and I had to use task mgr to get out of it.

I see that it has worked for several people, and it is a great idea, so I give it 3 stars. and will keep an eye out for future releases.
Diam0nd reviewed v1.4.5 on Dec 8, 2008
Excellent. This is VERY, VERY, VERY useful. NET sucks, but this add-in totaly rocks!
Mike reviewed v1.4.5 on Aug 25, 2008
dhry, what exactly is wrong with the execution? .NET is not a language btw, it's a platform. The language it's written in is C#.
dhry reviewed v1.4.5 on Aug 24, 2008
Great idea, terrible execution. Learn a better language than .net, programmer.