File Details

File Size
3.9 MB
License
Shareware, $59.99
Operating System
Windows 7/Vista/XP
Date Added
October 5, 2012
Total Downloads
23,473
Publisher
PC Tools
Homepage
PC Tools Internet Security
Publisher's Description
PC Tools Internet Security combines the award-winning security technologies from PC Tools, including Spyware Doctor AntiSpyware, AntiVirus, Firewall Plus and Spam protection, to provide complete integrated protection for your PC. PC Tools Internet Security is advanced technology designed especially for individuals, not experts. It is automatically configured out of the box to give optimal protection with limited interaction so all you need to do is install it for immediate and proven ongoing protection.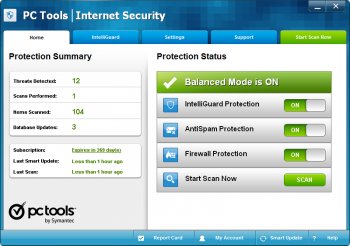 View Full-size
Latest Reviews
Sativarg reviewed v7.0.0.123 on Oct 13, 2012
www.pctools.com/forum>PC Tools Firewall retired

"Support" said:Hi All,

PC Tools Firewall has been retired as a standalone product.

As a valued customer, we are offering you a 60-day subscription to PC Tools Internet Security for 1.99, which includes Firewall technology.

At the end of the 60-day period, your subscription will be automatically renewed for a full 12-month subscription which can be cancelled upon your request at anytime.

Thank you for your support of PC Tools Firewall.

PC Tools Team
Sad... I especially liked the tray icon showing activity.
Got a pop up just a while ago
brendank reviewed v7.0.0.123 on Aug 23, 2012
Great software. Uses 20 of 400 megabytes of RAM on my machine. Small footprint and low resource usage. Great options for firewalling / blocking also. Great software
carlo_tor reviewed v7.0.0.123 on May 9, 2012
Good Firewall. Small, effective, low resource requirement, work fine when Emule is running (Zonealarm's VSMON caused a very high cpu load)
razzs reviewed v7.0.0.123 on Oct 18, 2011
Must say pctools firewall plus rocks the free firewall world.With its latest version 7 pctools firewall plus performed very well with 10+ score in moustec test.Uses less pc resource only 5MB,no annoying pup-ups,doesn't slow down the pc,minimum conflicts with antispyware and antivirus programs,most simple user interface in firewall category and most of all it v7 contains HIPS similar to that of comodo.'USE IT TO BELIEVE IT'.4.7/5.VERY GOOD.
sweathog reviewed v7.0.0.111 on Jan 8, 2011
Used to like this firewall. But the latest version, 7.0.0.111, produces an error with Microsoft Office and some other programs. If you click on an office document file like .doc, the firewall issues the error "There was a problem sending the command to the program." This error also occurs if you try to open a webpage by clicking on a link in a program's helpfile.
sweathog reviewed v7.0.0.102 Beta 4 on Oct 25, 2010
This is a nice lightweight firewall. It would be nice to have a few more configuration options like granting access by time of day or specific protocol. But on the positive side, I haven't experienced any of the BSD reported by some other users with any version of PCTools, unlike my past experience with Outpost and Comodo. But I mostly do clean installs of firewalls after testing on a spare PC. They're too important to be larded on on top of older firewalls.
johnk119 reviewed v7.0.0.102 Beta 4 on Oct 20, 2010
I SERIOUSLY recommend you stick with comodo internet security as it includes both firewall and antivirus protection as well a many other protection tools.... I'll admit I've never had to use them all ... but at least they're there... if you're not stupid in terms of compuer terminology than go with comodo please for your own sake
JackRegan reviewed v7.0.0.77 Beta 3 on Sep 8, 2010
Maybe you should check your commputer CyberDoc999
CyberDoc999 reviewed v7.0.0.77 Beta 3 on Sep 8, 2010
Blue screen of death again
had to use system restore
they never get it right
CyberDoc999 reviewed v7.0.0.62 Beta 2 on Aug 19, 2010
blue scrreen of deaaaaath