File Details

File Size
8.7 MB
License
Freeware
Operating System
Windows 2000/9x/Server 2003/XP
Date Added
July 28, 2006
Total Downloads
28,820
Publisher
Plextor
Homepage
PlexTools
Other Versions
Publisher's Description
PlexTools gives extra support to Plextor hardware by enhancing the possibility to directly control specific functions.
PlexTools Professional has proven to be stable, precise and useful. It offers high quality audio and multimedia capabilities and advanced control of several powerful features of Plextor drives. The distinctive design allows ease of use for newcomers without compromising on the powerful features that experienced burners demand.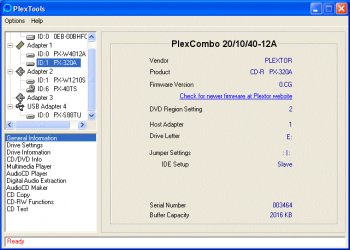 View Full-size
Latest Reviews
urbanriot reviewed v2.35 on Aug 3, 2006
Excellent program for autochecking firmware upgrades and for testing CD / DVD media quality. There is no other program I've encountered which works so well for media testing.

CD / DVD burning needs some work - this particular version craps out after attempting to write TOC on both my 716SA and 708A. Every other burning software (dvd decrypter, nero, blindwrite, etc.) works fine on my system.
SamiChang reviewed v2.28 on Nov 18, 2005
Agreed!! Great drive!! Great app!!!
urbanriot reviewed v2.28 on Nov 8, 2005
Powerful software that aids a powerful drive, allowing you to do more than any other CD-R software. While it's missing a few features, or an ease of use found with other progrmas, it has many features, tests and copying abilities missing from most other packages.
wincement reviewed v2.23 on May 2, 2005
I knew I like Plextor for a reason :-)

Great drives. Great software.
CyberHobo reviewed v2.21 on Mar 25, 2005
I love this application, and it performs flawlessly. Yes, Plextor drives are the best and their software is just icing on the cake.

I love the GUI and please don't "dummy it up" like Nero. The GUI is mean, lean and very functional (and let's keep it that way):).

CyberHobo out...!
PaceyPimps reviewed v2.21 on Mar 25, 2005
Plexor Drives are the Best period. This software though it save memory is hard to use i would like them to make a easy menu like Nero's smartstart.
rotjong reviewed v2.19a on Jan 8, 2005
I'm glad to see they are shipping PlexTools with newer Plextor drives in the US now. It didn't come with any of my prior drives including the PX-708A. It now comes bundled with the PX-716A.

Generally speaking the software encompasses too many different uses, IMO. I like it for the general drive info, etc, aspects. As far as burning, ripping, etc, I'll use another program.
davidtb reviewed v2.18 on Nov 1, 2004
There's MUCH easier to use software out there than this. PlexTools is a pain in the ass.
Metsn reviewed v2.11 on Mar 2, 2004
To lassen: You only need the regfile...then upgrade works...

- this program use 37 700 kB of RAM...I think its so much... :/ But I also use this program for control my Plextor... ,))
cyberia reviewed v2.11 on Mar 1, 2004
Thanks, Anon. I have bought a lot of Plextor drives, and I have wanted to load Plextools Pro for years! Sweet!