File Details

File Size
1,242.7 MB
License
Freeware
Operating System
Linux
Date Added
July 14, 2012
Total Downloads
29,164
Publisher
MEPIS LLC
Homepage
SimplyMEPIS Linux
Publisher's Description
ProMEPIS Linux is a Linux OS based on Ubuntu that can be run from your CD drive without installation. Where it shines is its easy, 100% "point and click" installation, and automatic detection of not only "normal" computer hardware but also popular webcams, the latest wireless network cards, "Winmodems" that usually work only with Windows, digital cameras, scanners, and other devices.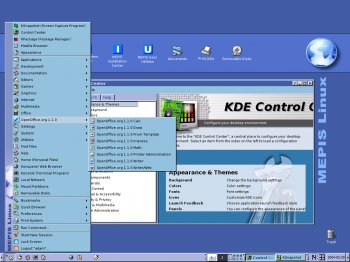 View Full-size
Latest Reviews
crazydark reviewed v11.9.60 on Oct 13, 2012
güzel payla??m..
Bala7 reviewed v11.9.60 on Jul 20, 2012
version 11.9.60 is very early alpha !
cltx99 reviewed v8.5 (8.4.97) Beta 5 on Feb 22, 2010
It's probably pretty good, but I'll never know. I tried many times, but it wouldn't completely load and froze near the end of the attempted installations.
some guy reviewed v8.5 (8.4.97) Beta 5 on Feb 20, 2010
catchpole you are a true DB, if you don't know what it is how the hell can you rate it?, back to mommy's basement.
CyberDoc999 reviewed v8.5 (8.4.96) Beta 4 on Jan 9, 2010
when you are tired of getting viruses then switch to Linux
Satansgeek reviewed v8.5 (8.4.96) Beta 4 on Jan 8, 2010
Regrettably, Catchpole, your knowledge of Linux seems to be non-existent and your comments help no one save, perhaps, for making you look like a "big man" in, only, your own eyes. Bluntly you are nothing but a troll. Simply Mepis isn't a bad distribution by any means but what it gains in some customisation of the *buntu code base it, IMHO, loses by having a lesser number of expert users to turn to should you need guidance to solve a problem. New users would be better off, again IMHO, if they stuck with a main stream *buntu and more experienced users might be better suited to Arch or other distributions. Still, the code is good and it is an excellent OS thus a 5 star rating.
txkm reviewed v8.5 (8.4.90) Beta 1 on Dec 8, 2009
finnlayer your review is an unfair assessment of this distro. SM Linux is not for people with your needs or wants i.e. games. Yes, Windows is better suited for that.

This is a good distro. It's simple to install and worked with my wireless when some other distros would not. I would recommend this for the first time Linux user.
finnlayer reviewed v8.5 (8.4.90) Beta 1 on Dec 8, 2009
Free software , good , not much is free and worth trying out now a day.

Yet this operating system don't do the job i would like it to ?

I like to be able to play games , most of all the many titles that you can play on windows systems.

I don't see much in between all OS going to date, reason for it...

Most of all system,s do much the same job, printing, scanning, internet search, play DVD, i like to see good titles for Linux , like you do on windows.

I be more interested in Linux if i could do what i can do on windows, just Linux seems far off for now , but i see it is becoming close for Linux to be a a much better Os in time, just needs more fuel to drive it forward's and titles i can go the shop for, like i do when i want a program or game for windows.

Yep free - what do you want free lollies too.
Dickens Cider reviewed v8.0.10 on Aug 27, 2009
I've use several iterations of this software. Good stuff. For those having trouble logging on... the logons and passwords are, and always have been.

logon: root
password root
logon demo
password demo
shrekorfiona reviewed v8.0.10 on Aug 27, 2009
It loads, then asks for Login Id: and Password:. I tried everything I could think of. You can't even get to the desktop!