Publisher's Description
Sumatra PDF is a slim, free, open-source PDF reader for Windows. Portable out of the box. Sumatra has a minimalistic design. Simplicity has a higher priority than a lot of features. It's small and starts up very fast. It's designed for portable use: only one file so you can run it from external USB drive. Doesn't write to registry.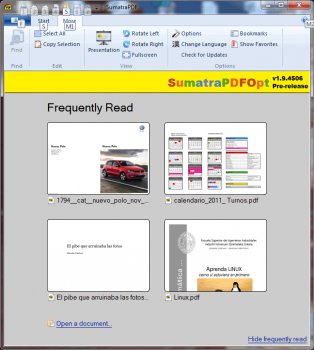 View Full-size
Latest Reviews
Enlightenment reviewed v2.2 r6650 on Dec 19, 2014
Excellent PDF viewer, but I downloaded a newer version from the official website
DrTeeth reviewed v2.2.0.6576 Pre-Release on Aug 20, 2012
1) the links on this page do not take one to the optimised builds
2) The optimised builds do not seem to have been updated in a while.
3) They are pointless as the original is perfect.
Music4Ever reviewed v2.2.6564 Beta on Aug 17, 2012
Excellent free software, small, fast & no added junk - Perfect for most users!
pjafrombbay reviewed v1.8.4301 Pre-Release on Aug 1, 2011
IMHO _THE BEST_ PDF reader, lean, mean and just does the job it is designed to. This is good software.

Regards,
Peter
HeilNizar reviewed v1.5.3116 Pre-Release on Mar 27, 2011
Oh red! Oh Yellow!
WTF is wrong with white and gray? I second ballyhairs on that.
But still, lite and free.
Input Overload reviewed v1.5.3116 Pre-Release on Mar 26, 2011
My favorite PDF viewer. it also opens extremely complicated electronic schematics with no problems. Brilliant.

Red with white spots?
SineWave reviewed v1.4.2938 Pre-Release on Mar 24, 2011
I think the function of a reader is to be "basic". To let you *read* something quickly and efficiently as the name says - "reader". ;) So I find it absolutely fantastic and it loads instantly the PDF I want to read, it scrolls fast to the page I want to read. What else do you need? This is perfect and I'm afraid the unnecessary features from bored users who don't have to read a hundred of PDFs per day would make it slow as they made Adobe Reader slow and lately even my favourite PDF reader before this one - Foxit Reader. The only feature that is also required is copy and paste text or a picture... and that's it. What would you like it to do? To have painting tools or play video? ffs... it's a READER.
cowgaR reviewed v1.4.2728 Pre-Release on Feb 7, 2011
I wrote a review in "normal not-optimized" official build, but I've tried this one x64 optimized. Crashes when I'll go to "change language" in menu.

Appart from that, it is _very_ basic PDF reader. Sooo many features are lacking that it is not even funny.
Input Overload reviewed v1.4.2728 Pre-Release on Feb 7, 2011
I agree with 'ballyhairs' bright yellow is a bit much, sunglasses are required. Maybe a more subtle colour would also make it look less amateurish which yellow does. Apart from that I'm happy with Sumatra.
ballyhairs reviewed v1.4.2728 Pre-Release on Feb 5, 2011
Something is wrong with the author!
Or screeming yellow startup background, or red ones, immediate headache. Whats wrong with white? Gray?
This is the second time I want to try this thing, no third.