File Details

File Size
34.4 MB
License
Shareware, $25.00
Operating System
Windows 7/8/10/11/Vista
Date Added
April 26, 2023
Total Downloads
13,376
Publisher
2BrightSparks
Homepage
SyncBackSE
Publisher's Description
SyncBackSE can easily backup or synchronize your important files to another drive, directory, or network. Highly configurable, but extremely simple to use. Integrated with Windows Scheduler to automate backups.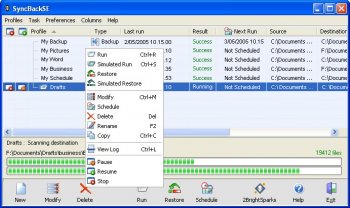 View Full-size
Latest Reviews
Zolambellamy reviewed v10.1.8.0 on Jan 26, 2022
Gs Richcopy 360 is more powerful, fast , and has an easy and nice interface.
Also, it has many advanced features to transfer to local computers, servers, and clouds
sweathog reviewed v8.5.33.0 on Mar 11, 2018
This is free, lighter on resources and almost as flexible:
http://www.ne.jp/asahi/cool/kish
HeilNizar reviewed v6.0.0.15 on Oct 18, 2011
If you are a power user then FastCopy is what you need.
adamw reviewed v5.9.3.16 on Feb 27, 2011
As others have said - it is mature and that's what matters. A bit over-engineered here and there and the UI is sort of "stuck in the 90s", but it works well.
zackattack reviewed v5.9.0.13 on Mar 19, 2010
Good workhorse. Can use a tweak here and there in my opinion, but it is mature and well supported and that's what matters.
dzjepp reviewed v5.8.7.23 on Dec 22, 2009
Superb utility
RWW reviewed v5.1.1.0 on Oct 4, 2008
Best of its kind!
philosopher_dog reviewed v5.1.1.0 on Oct 4, 2008
Rock solid. A powerhouse. Lively forum, great support. Together with Mozy you've got it made in the shade for backups on and off site.
k_ozzy reviewed v5.0.1.0 on Aug 29, 2008
... so to speak "write a review": a single word would probably describe it: Excellent (well laid out, intuitive and does what's supposed to)
harmlessdrudge reviewed v5.0.1.0 on Aug 28, 2008
Super program. This belongs on the hard drive of any sync freak. I use it along with Beyond Compare (www.scootersoftware.com) and Superflexible (www.superflexible.com), plus... Robocopy. For incredibly flexible syncing Superflexible is the business. For visual verification and inspection BC is the cat's miaow. For routine use and the ability to share a free version with friends who haven't learn to sync yet SyncBackSE is a good way to go.