File Details

File Size
308.4 MB
License
Shareware, $19.95
Operating System
Microsoft Hyper-V Server 2008, Windows 7/2000/Server 2003/Server 2008/Vista/XP
Date Added
November 25, 2013
Total Downloads
119,497
Publisher
MooSoft Development LLC
Homepage
The Cleaner
Other Versions
Publisher's Description
MooSoft's The Cleaner is a high performance application that protects, prevents and recovers your computer from malicious software (malware) attacks, including: trojans, spyware, adware and other harmful programs. The Cleaner detects and removes malware that is often missed by anti-virus software. It delivers one of the quickest and most thorough scans on the market. It will scan your computer in under eight minutes making it an excellent addition to your computer's defenses. It has on-demand scanning for single drives, folders or files or it can scan the entire computer.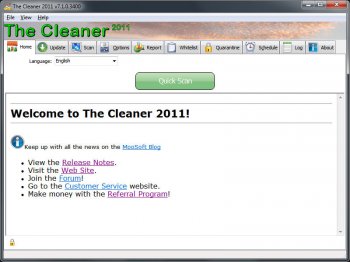 View Full-size
Latest Reviews
chrisrow reviewed v9.0.0.1123 on Mar 25, 2014
The metal detectors can be called vehicle inspection which have a good function of detecting metals and even some potential danger signals. They can bring much safety and convenience to people's life. We have to admit that the advanced technology always gives us surprise and joy. And you can get know how metal detectors work through the http://www.detectorall.c...egories/Metal-Detectors/.
CyberDoc999 reviewed v9.0.0.1123 on Dec 14, 2013
bandit gave a bad review and he did not test it at all
we should ban the bandit .... what a troll!!!!
the program has a 300+ mb data base and finds adware others miss... it WILL be going into my arsenal.... my usb stick is 8 gigs so 300 mb is nothing.. bandit go back to the Moon
BANDIT- reviewed v9.0.0.1123 on Nov 27, 2013
I must have been Living on the dark side of the Moon, In a Cave, With fingers in my Ears, & my eyes Shut for the last 20yrs. I have never heard of moosoft... E v e r..??

I can agree with some of the Yay's & Nays in the reviews of this Absurd App, & to be fair, We all have different opinions & views. I have not downloaded nor tested This App (And never Will). But I do feel I need to reach out to the Gullible, Unwary, Unknowlegable or Noobs, who may be attracted to this Monster.

The portable v is 600Mb ffs.!! The setup.exe is 300Mb. Ask yourself, WHERE does that extra 300Mb go when you Install this Conglomerate..?? Common sense says it will Riddle your system with files. Make dozens of changes to System files. And, (To all the guys who have just Run one of those Crap registry cleaners & removed 100+ Reg keys).. lol... This Mutha will add another 10 zillion Keys for you to deal with... "Wot a Laff".

IF... You happen to have an Infection, Trojan/virus etc. "Ask Yourself" HOW did it get there.?? .... & THEN.. Either Re-Configure your Anti-Virus proggy, or consider Upgrading to a better one.

$20 bucks or FREE. I would NOT recommend Anyone to put their machine into the hands of moosoft and/or a completely ridiculous App like this... ( _ º _ )
Music4Ever reviewed v9.0.0.1099 on Mar 9, 2013
Impossible to review as the program isn't downloadable from anywhere a day after the release I hope the download size of 250 MEG is a mistake & the comparison the other AV's/Anti-Malware products on the Moosoft page is ridiculous - Hard to find any realistic reviews of the product - I will try again another day.

http://www.moosoft.com/tc9-comparison/
Music4Ever reviewed v9.0.0.1028 Beta on Nov 20, 2012
185 Meg & claims to use the cloud - Used this some time back but you are far better with Mbam.Will find lots of FP's & little else, give up Moosoft.
Fermier reviewed v8.1.0.1110 on Aug 7, 2012
re " some guy
does not hold a candle to CCleaner"

The program has nothing to do with CCleaner. Only the "name" is similar. Plainly Mr. Some Guy never ever tried it, yet he makes an idiotic judgment. I went so far as to view some of his other "reviews." The man appears to be barely literate. THIS is the future of the United States.
Music4Ever reviewed v8.1.0.1110 on May 24, 2012
Malwarebytes wipes the floor with this the author made the mistake of charging a fortune a year ago ~
Input Overload reviewed v8.0.0.1012 Beta on Feb 14, 2011
some guy - Another instance of you writing a review without neither installing or reading the blurb.

It's not a cleaner like CCleaner, it's a dedicated Trojan Remover/Anti Malware, remover/guard. It doesn't have anything to do with cleaning junk off your PC..

You do show yourself to be a moron.

As for the program I use it as I detest Trojans out of all Malware. This morning I received a reminder to renew it at a very nice price. So I will be using it for at least another year.

Nuff said
some guy reviewed v8.0.0.1006 Beta on Feb 11, 2011
does not hold a candle to CCleaner
Input Overload reviewed v7.2.0.3510 on Mar 30, 2010
I bought the Cleaner & are very pleased with it. Uses few resources & another layer in my layered protection. Keep up the good work.