File Details

File Size
0.6 MB
License
Freeware
Operating System
Windows 2000/Vista/XP
Date Added
June 20, 2008
Total Downloads
3,067
Publisher
Janus Olsen
Homepage
Transfz
Publisher's Description
Transfz (pronounced transfuse) is a integrated search agent in the form of a context menu that allows the user to launch online searches from any document or application on both the desktop and the web. Supports powerful extensions: Search and Replace, UPPER case, HTML insert, etc. Use the build-in Plugin Creator to easily allow your favorite search engine to become a omnipresent standard in your desktop/web experience. Finally Transfz also contains a clipboard list of the last 5-30 items copied.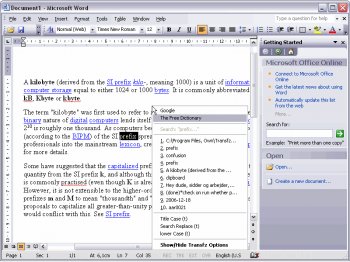 View Full-size
Latest Reviews
supa.dupa reviewed v1.21 Beta on Jun 20, 2008
Should like it to have more extensions. Guess its a community thing?
Diam0nd reviewed v1.20 Beta on May 20, 2008
Very nice. A must-have.
walter_gereda reviewed v1.20 Beta on May 19, 2008
I rarely write a review, but this time i think this app is a real achievement on user interface and merits all my appreciation. I always thought something had to be done to make things simpler, easier, and faster. This is THE WAY to do it. Keep the good work, you are doing fine!
Crispy777 reviewed v1.10 Beta on Jul 27, 2007
Thank you for the new features!

I think I have recommended this program to atleast 20 friends!! I would give it six stars if possible, it really does speed up working and browsing o whole lot!
8bitmorethan reviewed v1.09 Beta on Jul 20, 2007
@minasinahanmetehe, Transfz does allow manual input, press: 'alt-d' to activate the Searchbox.

@Crispy777, thanks :)
minasinahanmetehe reviewed v1.09 Beta on Jul 19, 2007
Good program, works fine.
Only 4 points, because it does not let to add search strings manually as
http://www.cleverkeys.com
which is simpler and works fine too.

What about feeding searches to applications in the PC, like X1, TheSage, WordNet, Find file etc..
Crispy777 reviewed v1.09 Beta on Jul 18, 2007
Perfect! Five stars! Congratulations to the creator of this program. This will speed up my work a lot! A Big thank you!!!

And the fact that it is greenware and you will buy trees for the donated money makes you and this program worth six stars.

+1 digg

Thanks!
extremely well reviewed v1.09 Beta on Jul 17, 2007
Saw the videos over at http://www.transfz.com/videos.php
and I can def say: this program is damn useful!
8bitmorethan reviewed v1.08 Beta on Jun 19, 2007
@minasinahanmetehe,
Yes, false positive, I have reported it to McAfee. I'll have a thread updated on the Transfz forum on the issue - http://www.transfz.com/forum.php
minasinahanmetehe reviewed v1.08 Beta on Jun 18, 2007
McAfee found virus from the
Transfz 1.08 Beta

Is this real or false positive ?