File Details

File Size
1.8 MB
License
Open Source
Operating System
Windows (All)
Date Added
February 24, 2014
Total Downloads
169,354
Publisher
Avery Lee
Homepage
VirtualDub
Other Versions
Publisher's Description
VirtualDub is a video capture / processing utility for 32-bit Windows platforms, licensed under the GNU General Public License (GPL). It lacks the editing power of a general-purpose editor such as Adobe Premiere, but is streamlined for fast linear operations over video. It has batch-processing capabilities for processing large numbers of files and can be extended with third-party video filters. It is mainly geared toward processing AVI files, although it can read MPEG-1 and also handle sets of BMP images.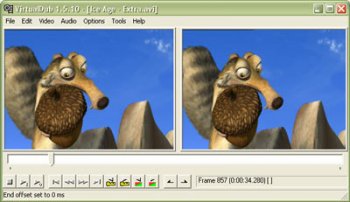 View Full-size
Latest Reviews
BANDIT- reviewed v1.10.3.35376 Beta on Nov 30, 2012
TOP NOTCH
- Used this for years
- Tons of plugins available
- Encode or Lossless
- Total control of Editing

As i remember: I think it was packed with GordianKnot.??
Which is another good tool for the guys who want to get
into Video Editing. All smart gear. Well recommended. And
above all...... FreeWare.
A big Thanx to the contributors.

.
dejavu reviewed v1.10.2.34807 Experimental on Jun 4, 2012
Excellent program, thank you!
SineWave reviewed v1.10.1 Test 14 on Jan 10, 2012
Since there is no review for this program in last 2 years, I thought I should write a thing or two about it.

1st: This is all you need for transcribing and encoding your videos.

2nd: you can put it and run it from wherever you want. No installation needed. No registry entries. It's simple to learn and work with it.

I use it for about a decade now, and all I can say is - that thing is one of the first things I install, or rather "install" on my computer. Fast as hell. GUI is native to windows, no artificial hardware bull, and that contributes to its speed, too. One of the most useful programs in Windows ever, beside CCleaner, Defraggler, XNView and Firefox.

This man deserves a medal! :) [and FCChandler too, for making all the wonderful plugins for it]

Cheers! Thank you so much for making such a great program for linear editing and encoding!
anomoly reviewed v1.9.8 on Dec 29, 2009
@plasticpig72
AviDemux will open vbr audio avi's and then can save them to a cbr audio vdub-compliant avi in minutes (~30 min. for 700 MB depending on how fast your pc is). It will also append 2 vbr audio avi's to one almost as fast as you can copy the files.
turkiston reviewed v1.9.6 Build 32618 on Oct 3, 2009
thank you
rhinohide reviewed v1.9.4 on Jul 28, 2009
Recently needed to rotate a video 90 degrees that was captured with the camera on it's side. Common problem with cameras that can record video. I used an older rev of this and rotated the video in a very short time. In fact, it ran so fast on an older CPU that I really didn't think it worked, but it worked great. I was impressed with the speed and ease of use. Couldn't have been simpler. I'm glad to read the post before me because I've been thinking about doing some Xvid transcoding to get higher compression ratios, and wanted a simple app. I think the VirtualDub author is very conservative in his description. There are a lot of plugins for this, some of which will handle MPEG2.
DudeBoyz reviewed v1.9.1 Experimental on Mar 30, 2009
I really like this little program. I don't use all the functions but it is pretty great at what it does.

I run it right out of the folder from the UNZIP - don't have to install it formally. I create a shortcut for it via the right-mouse click menu and put that shortcut on my Dock Bar program.

I can download the latest XviD CODEC if I wish (I like it better than DivX) and install that and it becomes available from the VIDEO > COMPRESSION dialog.

So, when I make FRAPS captures of my video game sessions and then save those, I can open up VirtualDub, load that game video (AVI) and go to the VIDEO > FILTERS dialog and then ADD the RESIZE filter, set it at 640x480, SAVE it then click the OK button.

Then all I have to do is go to the FILE menu and choose SAVE AS AVI, type in a name and I get a compressed but great looking video of my game recording but in 640x480 instead of 1600x1200 or 1280x960, and then I can upload that video to YouTube or a file download hosting site and people can view the video.

It's great when you are playing different games and your buds all want to check out what the games play like. I can play PainKiller Black Edition and Unreal Tournament 2004, they can play C & C 3 Tiberium Wars, UT 3, L4Dead and Gears of War and I can watch the videos of how those games play. It's just awesome that it's so easy to do and it doesn't cost ANYTHING at all! 100% Free!

So even if I just use one or two main features and make the video, that's still just fine. I'm getting my monies worth totally!
WascallyWabbit reviewed v1.9.0 Experimental on Jan 5, 2009
This is the only piece of video encoding software I will probably ever use. Now, after checking out the latest experimental version, I love it even more. The new Queue Batch is a dream come true and I am anxious to see how it is developed as 1.9 moves along.
plasticpig72 reviewed v1.9.0 Experimental on Jan 5, 2009
This is just such a small simple and powerful program. I have never even had a beta version give me problems. I would highly recommend this software. I just need to find a solution to opening vbr avi's
ron_marz reviewed v1.9.0 Experimental on Jan 5, 2009
analphatester: Have you ever considered the possibility that the problem isn't the app, but your system? Just for kicks, why don't you try running VirtualDub on a clean install or in a virtual machine and see if that isn't the case?

Regardless, VirtualDub is a 5-star piece of software if ever there was one.