File Details

File Size
56.0 MB
License
Freeware
Operating System
Windows Vista/XP
Date Added
June 17, 2017
Total Downloads
2,789,275
Publisher
Shark007
Homepage
Vista Codec Package
Publisher's Description
With Vista Codec Package installed, you won't need to install any other codec or filter. Many user suggested default settings are implemented. It does not contain a media player. It does not associates filetypes. With this package installed you will be able to use any media player (limited only by the players capabilities) to play DVD's, movies and video clips of any format. Streaming video (real and quicktime) is supported in web browsers. Visit the homepage to get a 64bit Addon which enables xvid, divx and DVD playback in Vista's MediaCenter.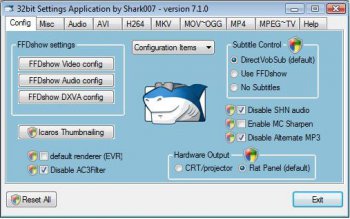 View Full-size
Latest Reviews
Betanoob reviewed v6.4.0 on Nov 5, 2012
Best part is the free toolbars and spyware!
Oh and this is the worst codec pack in existence.
jetz reviewed v6.1.2 on Dec 14, 2011
Clueless foreigners need to read the license agreemant.
This hijacks your browser and will force install malware infested spyware depending on your locale.
xambik reviewed v6.0.0 on Dec 12, 2011
theshaggyman reviewed v6.0.0 on Sep 19, 2011
Well, while installing it *asked* me whether I wanted to install

1. the ask toolbar
2. weatherbug

both of which I de-selected, and I got no junk on my system. Maybe the people blindly clicking on "accept" or "agree" to everything ought to be more careful while installing.

I certainly don't look upon this kind of program behaviour as spyware.

It does what it claims, only negative for me was, contrary to its' author's words, it changed all associations to open with media player upon opening the control panel for the first time.

To the author: State clearly what you are doing! you state on your website "It does not install a player program and does not associate filetypes" - latter part of the assertion is no longer true.

Three stars for the above.
sararocs reviewed v6.0.0 on Sep 17, 2011
Installs unwanted spyware and on many systems even though you opt out, it installs anyway and their stuff is not easy to remove.
jetz reviewed v5.9.8 on Aug 2, 2011
Forced spyware!
Do not install this system hijacker!
CyberDoc999 reviewed v5.9.6 on May 8, 2011
adware
joeshmoe7 reviewed v5.9.3 on Apr 7, 2011
Well sorry to say, for the latest version, i got a big surprise of ASK Toolbar all over my browsers (firefox and IE8). And no notification or warning or choice during install. I guess times are tough and all, but i can't recommend any installer that does stealth install of junk like ASK toolbars, injecting them into both IE and FIREFOX (who knows maybe chrome if you have that installed)

Now, I was able to remove them and continue using the codec pack. And to the author's credit, he does give instructions on how to prevent it on the official forums. Still, i have decided to say so long, uninstall, and move on. In my line of work (which includes a lot of malware and junk-software removal), i just can't recommend it. I'll still give it 1 extra star over minimum, for the codec pack itself is quite good and useful.
joeshmoe7 reviewed v5.7.8 on Jul 8, 2010
Works great here on old XP.

I just tweak settings to my own needs, this pack + MPC-Homecinema is a WIN

Only one thing bad i could say is, by default = ffdshow audio mixer is on headphone virtual surround??? But easy enough to switch off. Probably just one of those, you know, matter of taste things, i like it pure with no virtual s***ual.
radiomaffia reviewed v5.6.2 on Feb 26, 2010
good, better, best! No more codecs problems after this also for xp platform. Has some nice progs in the install, every codec can be removed if desired...Use it for years now.