File Details

File Size
27.1 MB
License
Freeware
Operating System
Windows 7/8/Server 2012/Vista/XP
Date Added
April 22, 2023
Total Downloads
17,394
Publisher
WildBit Software
Homepage
WildBit Viewer
Publisher's Description
WildBit Viewer is compact & fast image viewer with slide show and editor. Eye catching interface within blazing fast folder, file list and thumbnail viewer. Viewer includes also Image Info with Image EXIF meta data JPEG and TIFF support and IPTC (IIMV4) information (like PhotoShop file info) from JPEG and TIFF, Thumbview has changeable views, sorting and thumbnail predefined sizes for fast thumbnail size setting. Viewer also includes shell toolbar, you can drop your favorite folder there and use it as an organizer.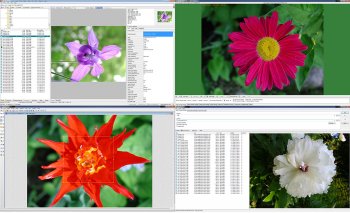 View Full-size
Latest Reviews
dimpalsharma reviewed v6.9 Alpha 2.0 on Dec 25, 2022
download and enjoy
Balderstrom reviewed v6.1 on Jul 8, 2014
Well it's been a few years. Wildbit works pretty much the same as it did 5 years ago.
cltx99 reviewed v6.0 Alpha 1.0 on Mar 28, 2013
I'll never understand why this program consistently gets a 4 star rating. I've tried it and got rid of it a number of times.
Hilbert reviewed v5.9 Alpha 1.0 on Dec 6, 2010
This viewer is getting better but it is still extraordinarily slow in generating its default-size thumbnails from large TIF files (100-600MB each). A directory of these large TIFs (50 or 100 or so) will bring WildBit Viewer to its knees.

The worst aspect of this viewer is its terrible ergonomics, specifically one's inability to select a part of an image with the mouse and have that part instantly fill the screen (a la IrfanView or Hamrick's now-obsolete ViewPrint Pro but which does it to perfection*).

Today, any serious photographer will have many huge TIFs on his PC, thus it's just a fact that he'll need to zoom in on sections of an image within a split-second, so Viewers that do not support such features are essentially useless. One really has to wonder if this developer actually uses WildBit Viewer outside his selection of small-size test images.

-------------

* Produce a square or rectangle anywhere within the image with a mouse and immediately the mouse button is released the square/rectangle optimally fills the screen. Repeat this again or zoom in and out with the + & - keys. IrfanView is not quite as good ergonomically in that the selected square must be clicked before the image expands.
emanresU deriseD reviewed v5.6 Beta 1.0 on Nov 5, 2009
It took me literally 1 minute after installing this slow, clunky, crappy thing to say out loud "Get this $#@!%& thing off my computer!"

XnView.
Balderstrom reviewed v5.6 Alpha 2.0 on Sep 3, 2009
Except xNview Full is 15.5MB ... Unlike some I'll actually use a program before bothering to write a review.

This is a decent Multi-App, with 4 separate Binaries plus the Profile switcher.
Which lets you work with the Editor or Slideshow or Search separately (if desired) from the main viewer.

Unfortunately, the search is slow the "Filters" don't make much sense (if they even work at all) and it doesn't support regex or pcre.

The Editor is interesting, but is missing a few things like:
[x] autoFit to window. Everytime you resize an image's window you need to manually reZoom.
[-] The Create Icon is interesting and incomplete. If you've rezoomed a window (but not resized) The Create Icon, annoyingly, autoMaximizes the window again. Also it only lets you choose one icon size.

Lots of options for the Viewer itself, only missing a few things in this area:
1) Font Settings for Thumb Details, and Font Settings for FullScreen Mode.
2A) Option to 1) use XPs thumbNail cache or other formats.
2B) Option to save WildBit's ThumbNail.dat cache to ApplicationData instead of per folder.

Needs an option for ToolBars IconOnly (with tooltip) or Icon+Text

Most of the windows can't be resized below a certain point, which is somewhat of an annoyance.

Wildbit does NOT hose your system extension settings. Which is a major plus in my books. It will leave them completely alone if thats what you want.
Looks promising if development continues.
dhry reviewed v5.5 Beta 1.0 on Jun 26, 2009
Faststone AIN'T the best freeware picture viewer. Neither is this, although this could very well be the best BLOATware picture viewer. They claim it's "compact" but the 7.2Mb setup filesize says something a little different.

Want something that's far, far better? Get XNView. http://fileforum.betanew...for-Windows/989386705/1
bobad reviewed v5.4 Alpha 4.0 on Feb 26, 2009
Getting better and a little more usable. The controls are a bit more intuitive. Still far from Faststone quality and usability.

I can't help but wonder why developers feel they must include a browser (pictured above in the screen shot) when Windows already has a great one. Explorer already has thumbnails, browsing, sorting, comments, EXIF, sizing, and everything needed. A picture viewer only needs to have full screen viewing and light editing, and not duplicate the Explorer.

Anyway, I've grudgingly upped my rating to 4 stars... 3.6 actually.
radiomaffia reviewed v5.2 Alpha 6.0 on Apr 30, 2008
Using ACDSee 3.1 still and FastStone Image Viewer, but this viewer will certainly can become my favorites! Thankyou for beiing freeware
bekaye reviewed v5.2 Alpha 1.0 on Feb 20, 2008
Nice!
Little!

Can't argue with that.